#ncga: Cooper VETOES Jimmy Dixon. (Will Speaker Timmy move to override?)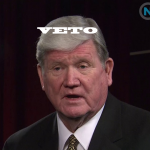 Our BIGGEST FAN — state Rep. Jimmy Dixon (R-Duplin) — got his feelings hurt by the governor of our fair state this week.  Dixon conspired not too long ago with Speaker Tim Moore to ram through legislation protecting huge corporate hog farms from litigation by those pesky surrounding landowners.
Roy Cooper's veto this week gave the Democrat governor the chance to outflank the GOP legislator on the right.  In his veto statement, Cooper waxed philosophically about protecting property rights while also protecting the environment.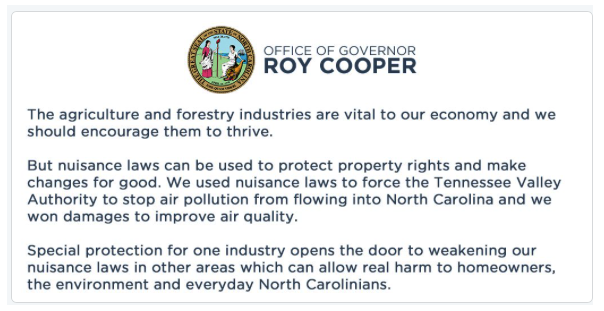 Here are the folks over at WRAL's political operation:
Gov. Roy Cooper has vetoed House Bill 467, which would sharply curb the rights of private property owners to sue hog farmers in so-called nuisance lawsuits.The bill had passed the House 68-47, and the Senate 74-42.

The measure would restrict the amount of compensatory damages people could recover if they win nuisance lawsuits. The amount is limited to the value of their property, which is already reduced because of its proximity to a swine farm.

Bill proponents, including Rep. Jimmy Dixon, a farmer from Duplin County, complain that the lawsuits are financially hurting the industrialized swine industry. That claim has not been substantiated, since nearly all large hog operations are owned by Murphy-Brown, the world's largest pork producer, or Prestage, another multi-million company.

Opponents of the bill pointed out it infringes on private property rights.[…] Several House members also questioned the constitutionality of the bill. "There is a great danger this bill treads on very thin constitutional ice. We cannot set rules  for court," said Rep. Joe John, during the House floor debate last month.
You remember Joe John?  He's the guy that botched the crime lab under Attorney General Roy Cooper. MORE: 
The NC Pork Council, which supported the measure, issued this statement:

The North Carolina Pork Council is disappointed in Gov. Cooper's veto of a bill that passed the legislature with bipartisan support. The ratified bill strikes a balance in providing clarity and certainty to farmers while ensuring that property owners remain protected.

Our laws offer special protections for a wide range of industries – and farmers are among them. North Carolina's pork producers follow stringent environmental regulations.

We encourage the legislature to override the veto in support of a vital sector of North Carolina's economy.

[…] Also today, court documents filed in federal court contain an expert report by a scientist whose sampling detected fecal bacteria from industrialized hog farms on the exterior of neighbors' homes and in the air of their yards. Many residents have complained that when hog waste is sprayed on fields, it drifts onto their property. The health effects, loss of quality of life and devaluation of property are behind several nuisance lawsuits.

The documents were filed by Wallace & Graham, a law firm in Salisbury, that is representing neighbors of the farms in a nuisance lawsuit.
Wow.  The law firm of NCGOP mega-donor Bill Graham.  Big party donors on both sides of this one. 
[…] According to Dr. Shane Roger's expert report, 14 of 17 homes sampled tested positive, "indicating a recent history of  impaction of hog feces onto their homes," the documents read. All six dust samples collected from the air using vacuum filtration devices at the yards of four clients — as far as nearly a half-mile from hog farms — "contained tens of thousands to hundreds of thousands of hog feces DNA particles."

This indicates, according to Rogers that residents are exposed to hog feces particles even in their homes.The bacteria, Pig2Bac, was identified and traced to hog feces through DNA fingerprinting. The sampling was conducted from October to December 2016.

These scientific findings contradict Rep. Dixon's claims during the April 10 House debate that "I want to testify to every single one of you in this chamber, these allegations are at best, exaggerations, and at worst, outright lies. When you talk about spraying a fluid in people's houses and on their cars, that does not exist."[…]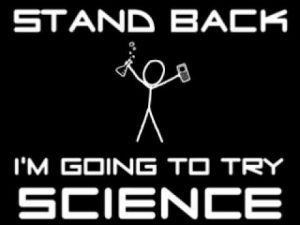 *That science stuff sure is something, isn't it, Jimmy?* 
We've got Roy Cooper singing the praises of property rights.  And we have the GOP majority in the NC House clamoring to protect bigcampaign donors.
I, for one, would like to see more effort toward things like, oh, protecting property rights by the GOP majority on Jones Street and a lot less 'servicing' of campaign donors.