#ncga budget: See Timmy Spin. (Spin, Timmy, Spin.)
We've got a budget deal.  Despite the revelation earlier this year that we have a surplus of over a HALF BILLION DOLLARS, GOPe-controlled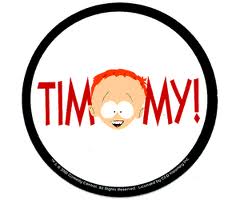 Jones Street is spending more and putting off tax cuts.   Here are the drive bys: 
[…]  Budget writers announced the compromise plan Monday. Votes are expected later this week in the Republican-controlled House and Senate, with the Senate voting as earlier as Tuesday. The plan would have to pass both chambers a second time if Democratic Gov. Roy Cooper vetoes the plan; a veto override would require support from three-fifths of lawmakers present and voting.

The spending plan for the fiscal year beginning in July is said to total "roughly $23 billion" – an exact figure wasn't released, but the spending level appears to be higher than the $22.9 billion budgets passed in the House and Senate earlier this year. GOP leaders said the figure represents a 3 percent increase from the current fiscal year. […] 
And WHAT are we getting for our money?  Here are some of the, um, "highlights":
[…] — seven new positions for North Carolina Museum of Art and the museum's new park: $2.5 million […]

— four new positions at the North Carolina Museum of History: $258,000. […] 

— Grassroots Arts and Rural Touring Arts grant programs: $675,000.[…] 

— increase rate for private attorneys who represent indigent clients: $1 million.[…] 

— use $18.2 million in federal block grants through mid-2019 to serve additional 4,700 children in North Carolina Pre-Kindergarten program.[…] 

— increase Smart Start funds to improve access to books and reading through Dolly Parton's Imagination Library and Reach Out and Read programs: $1.2 million.[…] 

— fund up to ten positions in the Superintendent of Public Instruction's office: $922,000. […] 

— cover legal fees by Superintendent of Public Instruction's office: $300,000.[…] 

— pay for 800 additional full-time equivalent students in the state community college system this fiscal year: $4.9 million.[…] 

— create new Site and Building Development Fund, designed to help prepare sites to attract major manufacturing employers: $5.7 million.[…] 

— tourism and economic development advertising by the Economic Development Partnership of North Carolina: $4.2 million.[…] 

— Carolina Small Business Development Fund, which gives small business loans and financial training to businesses and lending services to community organizations: $3 million.[…] 

— use $3.9 million in legal settlement funds to develop low-income housing units.[…] 

— film and entertainment grant fund: $15 million.[…] 

— new Fort Fisher state museum and visitor center: $5 million.[…] 

— new helipad for North Carolina National Guard: $1 million.[…] 
My personal, um, "favorite" was the $700,000 set aside for"vocational/career technical education" for SIXTH GRADERS.  (Child labor laws, anyone? Is this honestly a responsible use of tax money — prepping 12 year olds for a "career"?)
Oh, and tax cuts are being put off from 2018 to 2019.  That's kind of like the guys in DC who pledge to balance the budget by 2035 or so.  Those guys will likely be gone by 2035.  And a whole new crew will roll through the place between now and 2035 who are (1) not bound by the 2035 deadline, and (2) absolutely allowed to revise the whole deal.  Here's a chart Speaker Timmy and the gang are circulating to promote the budget: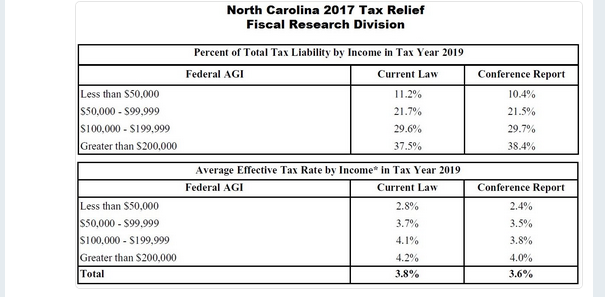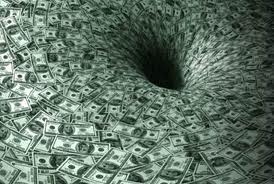 See the percent of total tax liability?  That's simply shifting one percent of the overall burden UP the income ladder.  It plays the liberal class warfare game.  *Punish the achievers whose investments actually power our economy.* 
We HAVE a surplus.  We can afford to cut taxes NOW.
Government is not in the business of accruing surpluses and profits. (Or playing Santa Claus.)  If you have more money than you need, you have ovetaxed your citizens and need to give it back. 
This is the same kind of stuff the GOP used to beat the Dems over the head about when they ran the show on Jones Street.