#nc03: Walter wants to KNOW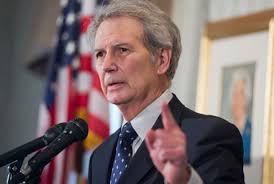 Congressman Walter Jones is tossing his two cents into the discussion about selecting the next Speaker of the US House of Representatives:
Chairman Cathy McMorris Rodgers
Republican Conference
203 Cannon House Office Building
Washington, D.C. 20515
Dear Chairman McMorris Rodgers,

In the next several weeks the House will hold elections to pick a new Speaker of the House, a new majority leader, and a new majority whip. In a time when confidence in Congress has reached a new low and voters across America want their elected leaders to listen to them instead of special interests, the House of Representatives and the Republican Conference in particular can take a step in that direction and elect a Speaker who will restore a transparent process to the operations of the House.

I've had the pleasure of serving the third district of North Carolina for the past 20 years in Congress. Some of the most difficult times have been when our Republican leaders or potential Republican leaders must step down because of skeletons in their closets. We've seen it with former Speaker Newt Gingrich and Rep. Bob Livingston, who ran for Speaker in 1998.

With all the voter distrust of Washington felt around the country, I'm asking that any candidate for Speaker of the House, majority leader, and majority whip withdraw himself from the leadership election if there are any misdeeds he has committed since joining Congress that will embarrass himself, the Republican Conference, and the House of Representatives if they become public. 

Madam Chairman, if you agree with me, include my request in the agenda items we discuss in the Conference while we hold the leadership elections.

The House leadership team holds great responsibility, and the individuals on the team should be able to serve with the utmost integrity. As members of the House of Representatives, we need to be able to represent the will of the people unhindered by potentially embarrassing scandals.

I am hoping and praying that the leadership election in the coming weeks will usher in the positive change this chamber needs and that the American people so desperately want to see. It is time we follow the will of the people who put us here, rather than ourselves and the special interests.
Hmmm.  That part we've highlighted might make one think Mr. Jones is referencing this story that mentions Majority Leader Kevin McCarthy and ONE of Jones's colleagues in the North Carolina delegation.  After all, Livingston — who is cited in Jones's letter — quit over reports of an extramarital affair.