NC elections chief "Big Boy" Bartlett keeps baffling us with BS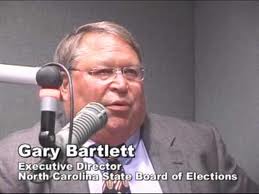 The folks at Civitas did a great job of pointing out how many 112 year old North Carolina voters have cast ballots so far during early voting.  State elections chief — and longtime Democrat hack —  Gary Bartlett took a break from devouring cheeseburgers and small farm animals to poo-poo Civitas's findings:
Since early voting started last week in North Carolina, data from the state Board of Elections shows 899 ballots cast by 112-year-old voters.

Either a surprising number of people who could have chosen between Calvin Coolidge, John Davis and Robert La Follette in 1924 remain alive and politically-engaged, or something else is going on.

A local conservative political blog was the first to suggest that "massive voter fraud" was taking place, and a bandwagon of similar claims have followed. The Examiner, a conservative website, posted a story that has been shared by several thousand people on Facebook and Twitter.

State elections director Gary Bartlett said the story spread quickly enough on social media that his phone started ringing during church Sunday and hasn't let up since – and a glance at the widely-circulated story shows why:

"Of these voters, over 70 percent were slated as Democrats, with a diminutive 25 percent counted as Republicans…Obviously there is a problem, one in which voter ID might clearly provide a solution. A thing that only the Democratic Party swears against."

Just one problem: "It's not voter fraud at all," Bartlett said.

Debate over proposed voter ID laws have lingered throughout the election cycle, but the centenarian voters are in fact a result of a change in information collected by the state when people register to vote, Bartlett said.

He said that until the 1980s only age was collected when people registered to vote – not necessarily their date of birth – so a default of Jan. 1, 1900, was used for those who had not provided a birth date.

In 2008, 9,856 votes were cast by people who were "108." In 2010, 9,194 people who were "110" cast ballots. There have been 899 votes by people aged "112" so far this year.

"These people have been registered for a long time," Bartlett said. "Twice now, we've cross-checked these people with drivers licenses, but if we can't find an exact match, we don't change anything because we don't want to put out false information."

[…]
How does this explanation make things better ???   Birth dates and social security numbers are two fail-safe methods for verifying someone's identity.  By not confirming birth dates — how can you possibly determine whether someone is a legitimate voter or someone voting multiple times under multiple names?
Let's see.  You have to produce an ID that shows your birth date in order to purchase cigarettes or alcoholic beverages — but NOT to exercise a constitutionally-protected right like VOTING.  *That makes sense.*
Bartlett had political ties to Congressman David Price and other Democrats prior to being named to the top elections post by Governor Jim Hunt.   During his tenure, ol' Gary has been performing a great Sgt. Schultz — "I see nothing, I know nothing" — impression.  One of his recent greatest hits involves a pretty damning video by conservative boat-rocker James O'Keefe.   Instead of taking a look at the troubling circumstances raised by the video, Bartlett announces he's going to investigate O'Keefe
Gary Bartlett is a piece of work who desperately needs to experience the unemployment line.  (Are you listening, Governor McCrory?)  Our elections process is too important to allow "Big Boy's" monkey business to continue much further.