#nc-03: Dr. Joan, Big DC Money and a gaggle of #NeverTrumpers.
Joan Perry enjoys lamenting –to anyone who will listen — that "Washington insiders" are out to get her.  Funny thing is — according to Federal Election Commission records,  DC-based and DC-connected political action committees have officially spent more than ONE MILLION DOLLARS promoting Perry's campaign for the US House.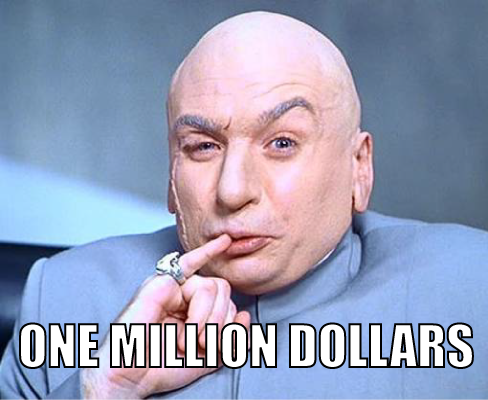 One of the more prominent PACs is something called Winning For Women.  This little item about WFW caught our eye: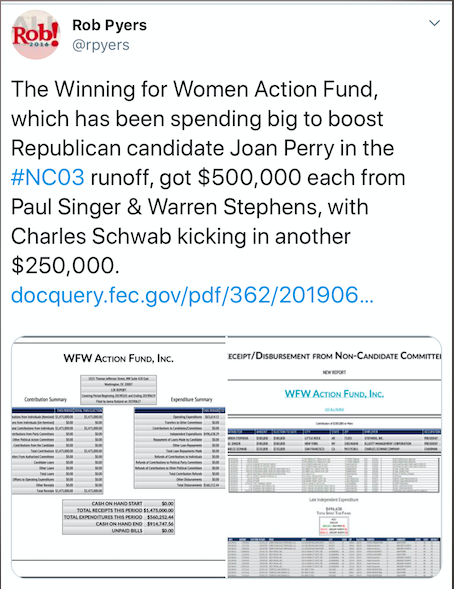 These guys — none of whom live in NC-03 (or North Carolina for that matter) —  have each written $500,000 checks to WFW's pro-Perry efforts.
Joan Perry has been wrapping herself in Donald Trump throughout the campaign.  SO, you'd have to wonder why these guys who are among the most powerful and influential members of the #NeverTrump movement  are so gosh-darned interested in getting her to Washington.
Here's a little about Stephens:
He's a billionaire who took over his father's business and expanded it ambitiously. Over the years, he's owned fine wines, a fleet of jets and an exclusive golf course, and has handed out money to politicians in both parties.

There end the similarities between Warren Stephens and Donald Trump. As Trump moves toward the Republican presidential nomination, Stephens, an investment banker from Little Rock, has emerged as one of the real-estate mogul's deepest-pocketed opponents within the party. […]

With Trump leading in the delegate count, his Republican opponents are focused on preventing him from winning the outright majority that would guarantee his nomination. A trio of conservative groups not affiliated with any candidate has spent about $28 million against him, mostly on negative ads that aired in the past few weeks. So far, the effort has failed to dent his popularity.

Stephens and his brother, Jackson "Steve" Stephens Jr., gave a total of $3.5 million last month to two of these groups, according to filings Sunday with the Federal Election Commission, on top of $500,000 last year.

The filings show only one other family, the Ricketts clan of Omaha, Neb., that's a bigger contributor to the stop-Trump campaign, having given $5 million since January. Other backers of the effort revealed in the filings were Paul Singer, the New York hedge-fund manager, who gave $1 million; and William Oberndorf, a San Francisco investor, who gave $500,000. […]

Stephens is a longtime Republican donor, although he supported former Arkansas Gov. Bill Clinton in his first presidential run in 1992. The financier and his wife were later rewarded with an overnight stay in the Lincoln Bedroom, a White House perk the president handed out to hundreds of supporters.[…]
And here's a  little about Paul Singer:
Hedge fund billionaire Paul Singer, a major Republican Party donor, tried to keep Donald Trump from getting into the White House, going so far as financing opposition research on the now-president.

Yet, with midterm elections one year away, it might take all of Singer's efforts just to keep the Republican Party from imploding.

As a major funder of the #neverTrump campaign, Singer – the CEO of $34 billion hedge fund firm Elliott Management – left no stone unturned in an effort to stop Trump from gaining the Republican nomination last year. One example: The Washington Free Beacon, a conservative website backed by Singer, was the first to engage Fusion GPS, a political research firm, to do opposition research on Trump and other Republicans, the New York Times reported Friday.

Fusion GPS's work for Free Beacon ended in May of 2016, but by April Fusion GPS was also working for Democratic presidential candidate Hillary Clinton, according to the Times. Fusion GPS eventually hired former British spy Christopher Steele, leading to the infamous dossier alleging Trump's ties to Russia and claiming a conspiracy between the campaign and Russia to influence the presidential election. Those allegations are part of a wide-ranging investigation by special counsel Robert Mueller, who will reportedly unveil the investigation's first indictment Monday.[…]
So, let's review.  Washington DC interests have dumped more than $1 million into efforts to promote Joan Perry's campaign for US House.  Two of the biggest contributors to the PACs supporting Perry are Paul Singer and Warren Stephens.  Warren Stephens backed Bill Clinton for president and funded the efforts to deny Donald Trump the presidential nomination at the end of the 2016 primary season.  Singer employed the same scam artists who gave us Robert Mueller and the Russia collusion nonsense — Fusion GPS — to investigate Trump and other Republicans.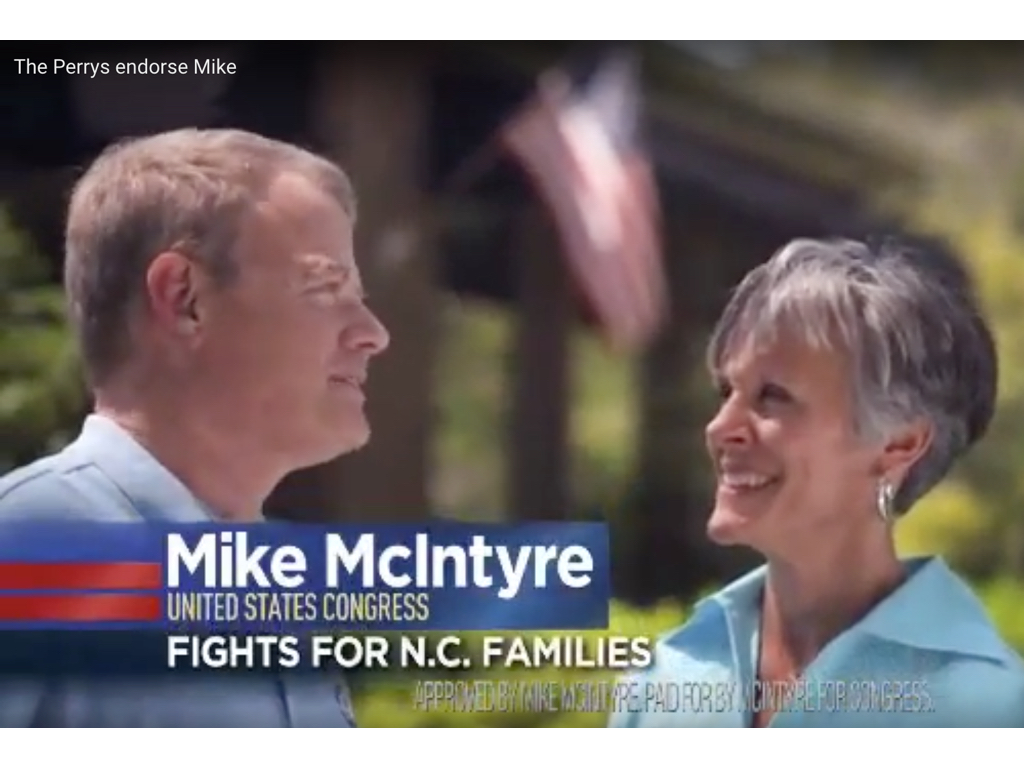 The Swamp is not worried about Joan Perry.  They've reserved a seat at the table for her.  She'll be a welcome guest.