NC-02: Ellmers wades into contested county GOP chairman election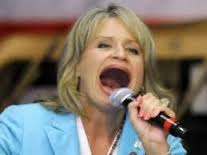 Only a small sliver of Cumberland County sits in the Second Congressional District, but incumbent US Rep. Renee Ellmers is extracting her dark brown nose from leadership rectums on Capitol Hill and inserting it into the county GOP's leadership elections this morning.  Check out this email sent to her reelection campaign's mailing list:

By the way, it appears Mills is NOT the only candidate in the race for Cumberland County party chairman. 
Ellmers is a resident of Harnett County.  THIS is not the first time she's butted into contested intra-party fights.  She openly campaigned and fundraised for David Rouzer in both his 2012 and 2014 primary races in the Seventh District.  She also fundraised for Phil Berger, Jr. in his runoff loss to eventual winner — and current Sixth District US representative — Mark Walker.   She bet right in the Seventh, but WRONG in the Sixth.  Ellmers is expected to have a serious primary challenger in 2016.  Meddling here, and betting on the wrong horse, could very well cause her problems in May 2016.