NC-02: Ellmers a rising star with national pro-abortion, liberal GOP group
It appears that Big Government Barbie has launched her national tour.  She's hit Phoenix, and spent the weekend in Austin at South By Southwest. We've written before about Renee Ellmers's passionate ties to something called Women2Women.  (They might want to think about a name change.  A Google search turned up an online dating service for lesbians with the same name.)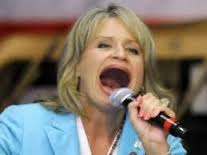 A recent article in RedState suggests that recent developments within Women2Women and its parent organization, MainStreet Advocacy, may offer some explanation as to the, um, rationale behind Ellmers's betrayal on that late-term abortion bill. :
Main Street Advocacy's "Women2Women" initiative travels to Phoenix today as part of an ongoing tour around the country this year. Main Street Advocacy is the political action wing of the Main Street Partnership, a group that works to defeat conservative Republicans in primary elections.

In a January conference call introducing the Women2Women initiative, Mainstreet's COO/CFO Sarah Chamberlain said the group believes that the top issues facing women this year are construction of the Keystone Pipeline, federal funding for transportation infrastructure, and the fight against ISIS.

Notably, the list does not include abortion.

However, the Phoenix summit will feature Rep. Renee Ellmers (R-NC) who is credited by pro-abortion groups for derailing the effort to pass legislation banning abortions after the 20th week of pregnancy. It will also feature Rep. Martha McSally (R-AZ).

Main Street Advocacy claims Republican affiliation in spite of the fact that the 2012 GOP platform included a plank on "the sanctity and dignity of human life." The Republican Party has called for an amendment to the Constitution to protect unborn children since 1980.

Though Main Street Advocacy does not have an official position on abortion, it does support a number of pro-choice candidates, including Sen. Susan Collins (R-ME) and Sen. Mark Kirk (D-IL). Sen. John McCain (R-AZ) is the group's only other member in the Senate.

The group's former CEO, former Rep. Charlie Bass (R-NH), openly described himself as pro-choice. Bass, who served in Congress from 1995-2007, and again from 2011-2013. By 2012, he had voted in favor of abortion 67 out of 85 times according to the National Right to Life Committee.

Mr. Bass also served as a member of Republicans for Choice and the Republican Majority for Choice, both organizations that help Republicans who support abortion, and both of which have ties to the Main Street Partnership.

In a list on its website titled "Pro-Choice Favorable Republican Organizations," Republicans for Choice lists the Main Street Partnership.

Kellie Rose, Executive Director of the Republican Majority for Choice, told me that the two groups worked together to support embryonic stem cell research funding that passed Congress in 2005, but was ultimately vetoed by President George W. Bush. "That's really the only legislative issue we worked with Main Street on," Ms. Rose said.

I attempted to contact Sarah Chamberlain to ask about the group's ties to pro-abortion candidates, but Chamberlain did not respond to repeated requests for comment.

Main Street Advocacy has donated more than $2.1 million directly to establishment Republican candidates since 2001. It spent $100,000 to help Sen. Thad Cochran (R-MS) beat back Tea Party insurgent Chris McDaniel in the last election cycle, and more than $300,000 against Tea Party candidates in several House races.
Yet, in spite of all of this evidence, Big Government Barbie will run ads right in front of the election trying to convince the low-information crowd that she looooooooves the little babies and hatessssssssss  the abortion thingie. The big question out there is; Will NC-02 get fooled again?