Mr. "International Travel for Legislative Duties" REALLY wants his picture in the elevator
Republicans have three choices with which to replace "Elevator Queen" Cherie Berry, the reigning Labor Commissioner made famous by her photo included on EVERY elevator inspection certificate in the state, in the March primary.   Chuck Stanley, former legislator Pearl Burris Floyd and current legislator Josh Dobson  are the GOP combatants this year.
There's already been some controversy in the campaign, with Dobson making the questionable claim that he's been endorsed by Mark Meadows.  (Though, with Meadows's retirement, and the hubbub in the 11th district primary,  I am not so sure that a Meadows endorsement holds the value it once did.)
Some of you may remember that Dobson was the ringleader — the chief sponsor — of legislation blocking treasurer Dale Folwell's efforts to achieve transparency in health care costs.   (Folwell was doing on a smaller scale what President Trump recently did on a larger scale with an executive order.)
Dobson first became a STAR in The Haymaker for his campaign reporting.  He labeled some campaign spending as "International Travel for Legislative Business."   That struck us here at Haymaker HQ as ODD,  since the General Assembly's jurisdiction does not go beyond Murphy or Manteo.  (Both of those ARE in the state of North Carolina AND United States of America.  Hardly "International.")
The McDowell News apparently saw our report on their jet-setting legislator and decided to ask him about it.  Of course, ol' Josh tried to pivot and transform the whole thing into an attack on us.  Then he calmed down and started spilling his guts:
[…]  former McDowell County commissioner, Dobson represents the 85th District (McDowell, Avery and Mitchell) in the N.C. House. He is chairman of the state House's Joint Legislative Oversight Committee on Health and Human Services; and the committee for Appropriations, Health and Human Services. He is also vice chairman of the House's committees for Appropriations; Education – Community Colleges; and House Select Committee on Step Therapy, according to the Website for the N.C. General Assembly.

A Republican, Dobson is up for re-election this year but faced no organized opposition in the March primary. He said to The McDowell News he is facing opposition through a write-in campaign on the Democratic side. When asked about this, he said he could not remember the name of his write-in opponent.

" There is a write-in candidate against me," he said. "She's a student at Mayland (Community College). I am not sure."

Dobson's campaign spent $680 for international travel for legislative duties. That money was paid with a check to the Center for International Understanding Council in Durham and it was for a trip to Singapore and Japan about health care issues. He was there for eight days in both countries.

" I went over there to learn about health care issues in Singapore and Japan and to find out what they were doing well," said Dobson to The McDowell News. "Singapore was really productive. They put a lot emphasis on personal responsibility and the idea that everyone has to do their part. We talked to CEOs of hospitals and government officials."

Furthermore, the report lists three separate debit card charges on March 10, 14 and 15 for international travel for legislative duties. He said those were for Internet service so he could check his email while on the Singapore/Japan trip.
The legislature often reimburses members for legitimate travel for LEGITIMATE legislative business.
Going to Singapore and Japan to learn about health care?   (For what it's worth,  I'm willing to bet the campaign expenditure for the travel was for the plane ticket for a family member / significant other  or spouse accompanying Dobson on the trip.  Groups like the one sponsoring this  trip  rarely pay for anyone other than  actively-serving legislators.
Since most campaign coffers are filled by lobbyists, the payment Dobson made with campaign funds for the international trip was likely little more than a laundered gift from a lobbyist or other special interest.
And folks — PLEASE don't let Josh tell you he's conservative.  Civitas gives him a woeful conservative ranking of 73% for 2019.   (Fighting transparency in health care costs will do that to you.)  The international travel PLUS Josh's blind obedience in the attack on Dale Folwell's transparency project,  suggest that Josh Dobson is a bona-fide 'yes-man' for ANY lobbyist bearing the right amount of cash.  The only opinions that appear to matter to him are INSIDE the Raleigh beltline.
I don't know Chuck Stanley.  But Pearl Burris Floyd has established a reputation as a class act.  She got primaried out of the legislature by "Walkin' " Kelly Hastings, who — like Dobson — finds campaign finance reporting to be challenging.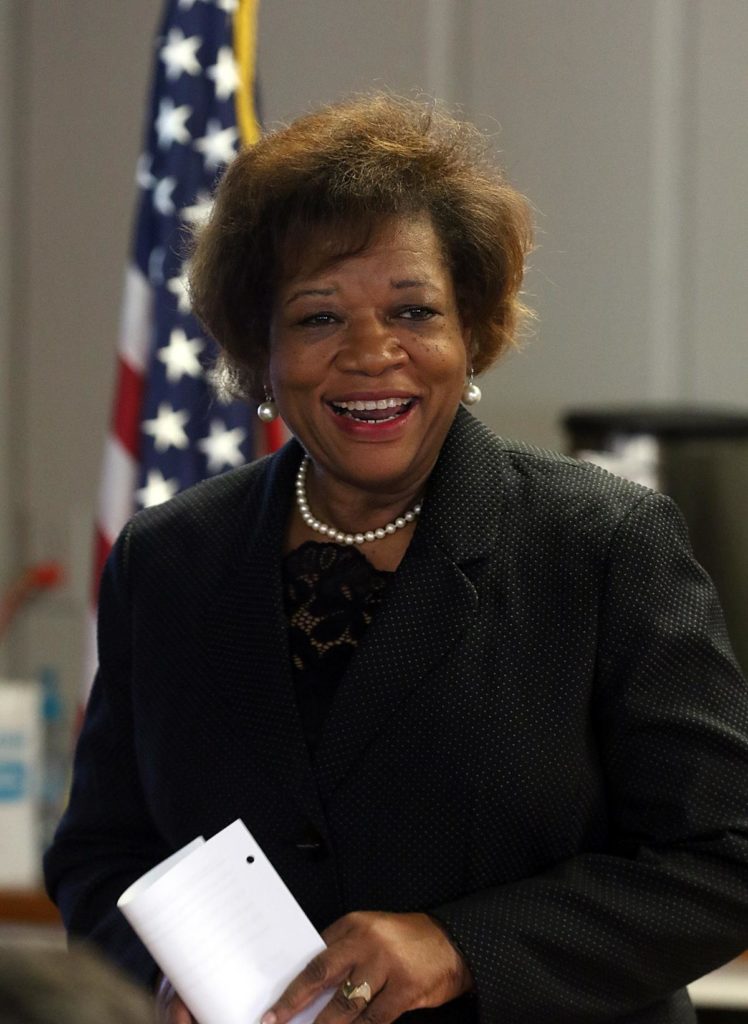 Therefore, we're recommending a vote for Pearl Burris Floyd for Labor Commissioner.