More, um, "fun" with the NCGOP treasurer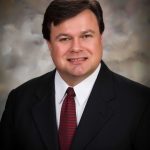 Jason Lemons is a busy guy.  He's chairman of the Harnett County Board of Education.  He oversees the finances for the Harnett County GOP and its building fund.  AND he's the treasurer for the North Carolina Republican Party itself.
We told you earlier about his repeated reprimands and assessments of fines by state officials.  There were some hints in his earlier correspondence with the state that he might be getting out of the campaign finance business.  But it appears he's still neck-deep in it and keeping the hits coming.  This little nugget is sitting in the Harnett GOP's file at the state board of elections:
MEMO

Date: March 27, 2019

To: File

From: Gregory B. Larimore 

Subject: Harnett County Republican Party Exempt Sales Plan signed October 29, 2018

During a cursory review of records for the Harnett County Republican Party (the Committee) as part of the approval process for an Exempt Sales Plan (ESP) received by the Agency on October 31, 2018, the Reviewer identified several anonymous contributions received by the Committee during the 2016 and 2018 Election Cycles.

After the Committee provided additional records for review during a series of in-person, email, and telephone contacts with the Reviewer, a Forfeiture totaling $2,449.21 was calculated.

The Forfeiture Agreement was in process when the ESP expired on December 31, 2018. As a result, a decision regarding approval of the Plan was not documented.

The Forfeiture Agreement between the Committee and the Agency to address the identified anonymous contributions was subsequently enacted March 26, 2019.
Now, HERE is the Harnett GOP's original Exempt Sales Plan.
HERE is one  Exempt Sales Plan the state liked — submitted five months later.  
HERE is one they did not like — also submitted five months later.
Aaaaaaaand, last but not least .…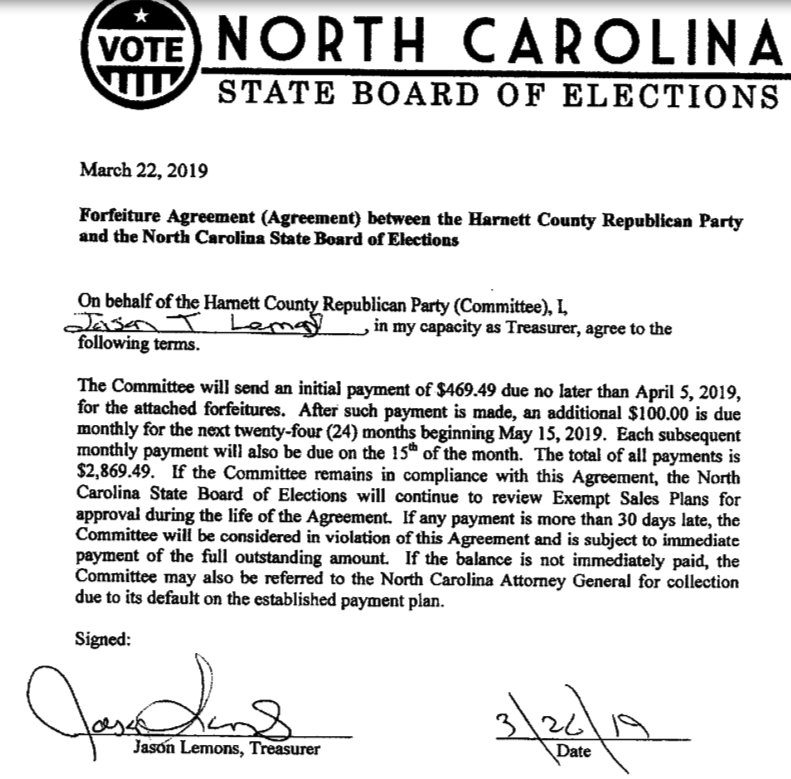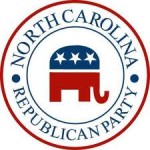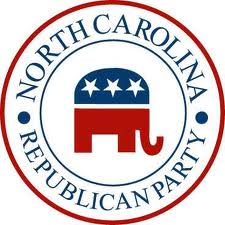 *Aaaaaah.  There's NOTHING like seeing your party's treasurer on a payment plan to settle a forfeiture fine. *
You have to wonder — after examining this fellow's track record:  If he is struggling with managing the finances of a smaller organization like the Harnett GOP, why on Earth was he put in charge of the much larger, more complex finances of the North Carolina Republican Party?
(Did serving on Campbell University's Student Government Association with Dee Stewart, David Lewis, and Dallas Woodhouse play any part in Lemons securing this post or obtaining "job security"?  Inquiring minds want to know.)