Monkey Business Report: Welcome to Madison County!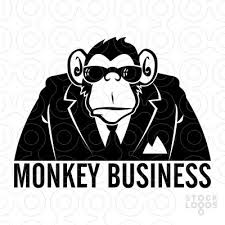 The politicians in Madison County are showing that they can hold their own with their neighbors in Haywood County.   We've received word of some antics during a recent meeting of the Madison County board of commissioners:
Commissioners clashed down party lines last Tuesday night as the board seems to struggle to unite since the election.

One thing became clear during January's regular meeting of the Board of County Commissioners-at least for now, bipartisanship seems to be a distant candidate's mantra.

From finding common ground within their own procedures to the future of multiple county projects, commissioners struggled to unite on nearly every front.

"There is tension on this board," said Commissioner Jim Baker, who brought multiple items to the agenda after voicing concerns with how the board has been conducting themselves since the election.

Tensions that clearly set the tone for the nearly five-hour meeting.

In one rather surprising action, commissioners voted down a motion that would ensure meetings be conducted according to Parliamentary Procedure.

Baker presented a motion calling for future meetings to be conducted in accordance with Parliamentary Procedure- a motion he says was in response to lack of consistency among board procedures. Commissioner Bill Briggs seconded the motion.

"I think it would be appropriate and for everyone's best interest that we have appropriate Parliamentary Procedures and rules that we can turn to if one party feels the other is not doing what is in the best interest of the county," said Baker.

Parliamentary Procedures are set rules, ethics, and customs governing meetings and other operations commonly used by county government.

Commission Chair Wayne Brigman denied any wrongdoing of the board.

"I don't think that this board or any of the previous commissioners did anything out of the ordinary," said Brigman. "I believe in North Carolina the chairman basically has control on how we conduct it, and I will continue to conduct them how they have been in the past."
No Robert's Rules of Order?    Seriously?  I am hoping this is merely pettiness spinning out of control.  MORE: 
Baker criticized democratic board members Brigman, Clayton Rice and Norris Gentry on the manner the board acted in the days leading up to the firing of the former county manager. He said it was clear the three democrats on the board had coordinated the termination of Allen Lamberson outside of a formal meeting and without the knowledge of him or fellow republican Briggs.

"I don't see any problem with the way things are and have been," said Brigman. "This is politics folks. If I decide to call two commissioners and we decide on something then that's politics."
Okay.  There we have Open Meetings Law violation #1.   If a majority of a board's members get together, and ANY government business gets discussed, there HAVE to be advertising AND minutes.   More: 
"I think that really answers my question in its entirety, Mr. Brigman," said Baker.

In a 2-3 vote, Bakers motion died after democrats voted not to conduct meetings in accordance with parliamentary procedure. Instead the board will opt to discuss the adoption of a modified set of rules in a work session.

The move for procedural overhaul was just one of multiple items Baker brought to the attention of the board.

He also questioned the necessity of an agenda- citing in December neither the county manager nor the shooting range were items on the approved agenda.

"Neither items were on the agenda, and neither items were brought to the attention of me or Commissioner Briggs. But they seemed well versed by three members of the board," said Baker. "Are we going to conduct our business on items approved on the agenda or are we going to do things without notice to members of the board or members of the public?"

Brigman argued that he was not opposed to amending the agenda at any given time.

"I feel every person on this board has the right to add something to this agenda," said Brigman. "The agenda does matter, you have to have an agenda to set the precedence of a meeting, but I'm not going to limit commissioners to what they can or can't put on the agenda."

Commissioners quarreled over the decision to abolish the now vacant position formerly held by county manager Forrest Gilliam- the Assistant to the County Manager for Governmental Relations. Baker argued that commissioners have no reason to keep that position in the budget, as he said they do not expect to rehire.

"It's my understanding there is no plan to fill that position… The money could be used in a more productive manner," he said.

A motion to abolish the position was seconded by Briggs, but lacked a majority vote to pass.

Baker then asked when the board plans to advertise for the position, to which Brigman said they would discuss that in closed session.
And THERE we have Open Meetings Law violation #2.  According to my reading of the state statute, THAT does not qualify as a good reason for going into closed session. (Now, if we only had an attorney general worth a damn …)