Memo to McCrory: Forget the whining and the suing. Start punching back.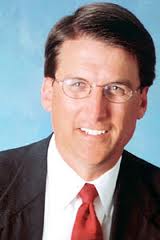 Nobody likes whining — whether it's coming from a child or a gubernatorial frontrunner.  It's only May, and the Pat McCrory campaign is already threatening lawsuits against Democrats and the media.  The "eviscerating" has apparently begun.   (It's going to be a LONG campaign season. )
At issue is an ad being run by a Democrat-aligned PAC questioning McCrory's business activities while he was mayor of Charlotte.   The Republican campaign is threatening the liberal PAC — as well as Durham TV station WTVD — with legal action over the airing of the ad.
 (Is it REALLY that smart to pick a fight with a major state media outlet this early in the campaign?  WTVD actually has a history of being fair with GOP candidates.) 
WRAL did a heck of a good job fact-checking the anti-McCrory ad.  If I were advising McCrory — instead of threatening suits, I would be passing this WRAL story around.
Threatening the lawsuit encourages people who have not seen the ad to go look for it on the Internet.  The lawsuit threat makes the ad a news item  A LOT longer than it should be.
McCrory needs to change the topic of discussion in the campaign.  Here are two items that could do the trick:
Walter Dalton was chairman of the Senate Appropriations Committee just before getting elected Lt. Governor.  Talk about the budget-busting that occurred during that time.  Tie the current economic problems to legislation that got pushed through that committee.  Talk about some of the crazy, wasteful things that passed the committee.  (I am SURE you could find one or two.)
Walter Dalton's daughter has been lobbying the legislature while her daddy was serving there.   Elizabeth Dalton Robinson has been a registered lobbyist in Raleigh since she graduated from college in 2002.  She got right on with one of the top lobbying firms in Raleigh.  Her career has blossomed as her daddy's political fortunes on Jones Street has improved.  I am sure daddy's chairmanship of the Appropriations Committee was a boon to her lobbying career.  I bet you could find some "interesting" story lines somewhere in that particular father-daughter professional relationship.