Meet The New Boss, Same as the old boss …
The Round Rev has moved on to bigger and better things on  The Soros plantation.  The NC NAACP has a new screaming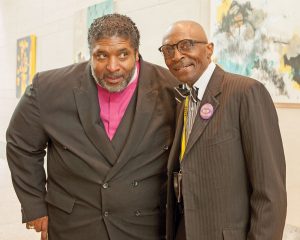 preacher heading things up, and The N&O is giddy with excitement:
With the North Carolina General Assembly scheduled to open a special session on Wednesday, the new state NAACP president will be at the state halls of power leading in protest just as his predecessor did.

The Rev. T. Anthony Spearman became the leader of the organization in October after the Rev. William J. Barber II, a fiery Southern preacher often compared to the Rev. Martin Luther King Jr., stepped down to take his fight for equality national. […] 
Compared to MLK?  BY WHOM ???????????  (And, OFTEN? Really?)
MORE:
Coming on the heels of Barber, the architect of the Moral Monday movement who was a guest at the Vatican over the Thanksgiving weekend, Spearman is accustomed to the comparisons to his predecessor and comments about "the big shoes" to fill.

"I wear a size nine, nine and a half, and that's the size I will continue to wear," Spearman said Monday during a meeting with The News & Observer editorial board.

Spearman, president of the NC Council of Churches, said he plans to continue with a "fusion movement" similar to the one Barber helped bring together over the past four years. The organization plans to keep its focus on a range of issues that include education equality, criminal justice reform, workers' rights, anti-poverty, health care and immigration reform.
Here's the NC Council of Churches.  Clearly, nothing more than another rabble-rousing pack of leftists.
MORE:
Spearman describes the South as having a "genteel apartheid," or a veneer when it comes to race "that is draped in Southern hospitality" while persisting with inequities from a Jim Crow era that he contends never waned. He questions whether school desegregation was good for black students, but maintains that despite his views he can bring in a diversity of members to continue the work of his predecessor. […] 
An NAACP leader against school desegregation?  Interesting.
While Spearman has many similarities to Barber, their tones and styles are markedly different.[…] 
Calorie counts, too, I'll bet.
[…] Spearman, more soft-spoken, was born in Port Chester, N.Y., and went to school there and in Rye, N.Y. His grandparents and extended family lived in and had deep ties to Cumberland County, and Spearman made many trips to North Carolina as a child.

As he pondered questions about whether there had been a revival of the Jim Crow era, Spearman, 66, recounted an experience he had as a 8-year-old in Fayetteville, while visiting his grandparents in nearby Eastover.

His grandfather, a farmer, had loaded up his truck with the grandchildren and driven into Fayetteville to treat them to what Spearman recalled as "some of the best fried chicken you'd ever want to eat."

A grandfather's message

With the exuberance of a child, Spearman darted out of the truck along the Person Street sidewalk. In his enthusiastic rush, Spearman bumped into a white man. His grandfather grabbed him with a force he was not used to and pulled him back and then gave him a stern talk when they got home about what to expect in a Southern town grappling with issues of desegregation and civil rights. […]
That story actually sounds like what we need a lot more of today: elder generations in families disciplining — and taking responsibility for — the younger generations. 
[…] Though the NAACP has been able to organize meetings with Gov. Roy Cooper and state Supreme Court Chief Justice Mark Martin to discuss the organization's willingness to lend a voice on key issues such as criminal justice reform, General Assembly leaders have yet to respond to a request last month for a time to talk.

Like his predecessor, Spearman does not focus on partisan labels when talking about the Republican-led General Assembly. "I have some friends who are Republican and they are good Republicans," Spearman said. "But I think these dudes are extremists. They're rogues."

Spearman won't call President Donald Trump by his name, referring to him only as "Number 45" to signify his position as the 45th president. […]
*A real unifier, eh?*