Media trying to bail out Walter Dalton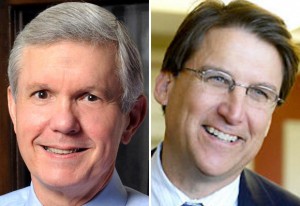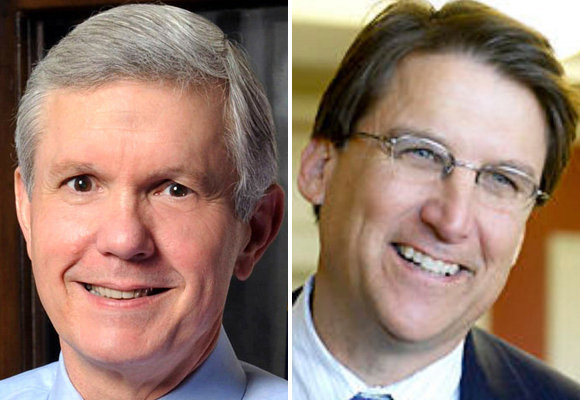 It's been looking pretty bleak for Democrat gubernatorial nominee Walter Dalton.   The average of current polling shows him losing by 12 to GOP nominee Pat McCrory.  Dalton served in the General Assembly during an amazing spending binge, and has been lieutenant governor during one of the worst economic declines in the history of our state.
Dalton, like Candidate Hussein Obama,  really doesn't have any positive accomplishments to run on.  Things have been quite disastrous while he's been on top of the pile in Raleigh.  So, all that is left — as is the case with Obama — is to hammer your opponent. In this case, the mission is to dispirit the GOP base about Pat McCrory.  Time to get our boy John Frank on the phone:
With tax reform on the table, the candidates for governor are arguing about each other's record on the issue.

Both Walter Dalton, as a six-term state senator, and Pat McCrory, as a seven-term mayor, supported tax hikes numerous times in the past. […]

But McCrory is not immune from criticism on taxes. In 1998, three years after being elected mayor, McCrory championed a half-cent sales tax to expand Charlotte's mass transit system, a $463 million project. The city's voters approved the extra tax and in 2007 McCrory successfully spoke against a referendum to repeal it, which voters rejected.

Democrats highlight how the transit tax helped give Charlotte the highest per capita tax burden of any city in the state for nine straight years when McCrory held office. But it's not an entirely fair critique because the total includes some county taxes, said Michael Lowrey, a policy analyst for the conservative John Locke Foundation, which published the rankings.

In 2002, McCrory also pushed to build a new downtown arena using existing hotel taxes and corporate contributions, even though a year earlier voters rejected a non-binding referendum to increase the car-rental tax hike to build the arena and two other projects.

Later in 2006, he advocated for a hike in the hotel tax to build the $200 million NASCAR Hall of Fame.
Okay.  Obviously, the plan is to call attention in order to tick off conservatives and get them to say: "There's not a dime's worth of difference between these two.  I am voting third party or not voting at all." I admit it's hard for me to stomach some of the stories about McCrory's mayoral tenure.  READ ON:
McCrory defends the taxes for the projects, saying it was responsible spending. And like Dalton, McCrory would rather focus on the tax hikes he fought, including vetoing the 2006 budget, which included what officials called the city's first property tax increase in 20 years.

"I vetoed a rental car tax increase in Charlotte," he said. "I vetoed a property tax increase in Charlotte. I vetoed budgets that increased taxes."
That last quote is the difference between the two leading candidates for NC governor.   The GOP majority on Jones Street used Bev and her veto as an excuse for not pushing harder on some conservative proposals.   Promoting Mayor Pat to governor takes away that excuse.   Dalton would be under pressure from his base to veto EVERYTHING remotely conservative coming out of the legislature.  We can push Governor McCrory from the right.