Lawsuit against Moore County schools administrator moves forward
Edward Pruden was hired in August on an interim basis to fill the vacancy at the Moore County central office left by Kathy Kennedy. According to Wilmington's Port City Daily, Pruden has some unfinished business from his old job in Brunswick County that will likely involve a person in a black robe armed with a gavel and 12 of his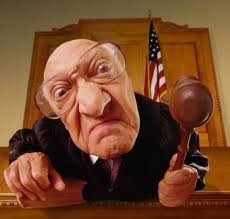 peers:
A defamation lawsuit from a local charter school management company against Brunswick County's former superintendent continues to head toward a trial.

Last month, a New Hanover County Superior Court judge denied Dr. Edward Pruden's request to dismiss the suit, filed by Baker Mitchell in January. Mitchell operates The Roger Bacon Academy, which oversees four public charter schools–Douglass Academy in Wilmington, Charter Day School in Leland, South Brunswick Charter School in Southport and Columbus Charter School in Whiteville.

In the lawsuit, Mitchell claims Pruden, while acting as superintendent of the Brunswick County school district between 2010 and 2014, made a series of false accusations about Mitchell and Roger Bacon. The Brunswick County Board of Education fired Pruden last November, seven months ahead of his previously announced retirement date.

Mitchell claims Pruden had a "combative attitude" toward the charter school system in a variety of public formats, and that when Roger Bacon Academy applied with the state Office of Charter Schools in 2013 to open South Brunswick Charter, Pruden began an "obsessive public campaign to derail approval" of the new campus.

"Pruden has falsely stated to third parties that public charter schools assist in 'dismantling' North Carolina's system of public education…and that public charter schools have 'morphed into an entrepreneurial opportunity,'" according to the original suit.

Mitchell says Pruden intentionally caused his Local Education Agency Impact Statement–a document submitted to the state as part of the charter approval process–to be published by the media.

"The Impact Statement contains numerous statements that, when considered as a whole, maligns Mitchell and [Roger Bacon Academy] and casts dispersions on Mitchell's honesty, character and moral standing in the community."

In that statement, Pruden accused Mitchell's "private companies" of profiting from taxpayer dollars in the amount of $16 million.

Mitchell claims Pruden then began submitting numerous documents to the N.C. State Board of Education in an effort to show a "conflict of interest" between Mitchell, Roger Bacon Academy and charter schools, including Mitchell's position on the Charter Day School's Board of Directors.

But Pruden's attorney Edwin West argued in the motion to dismiss that his client was only acting on behalf of the Brunswick County Board of Education.

For example, the motion to dismiss states, "each of the letters at issue is on Brunswick County Schools letterhead and is signed by the defendant as 'Superintendent, Brunswick County Schools.'" Those items were endorsed by the board and reviewed by legal counsel.

Since Pruden was acting in his duty as superintendent for his employers, West argues, he is covered by sovereign immunity, which protects an employee of the state from liability. More basically, West said Pruden's words were not defamatory because they were not false, and he is therefore protected under the First Amendment in making "truthful speech about issues of public concern and about public figures."

In addition to more than $50,000 in compensatory and punitive damages, Mitchell is seeking additional special damages in excess of $313,200.

Pruden, too, is seeking compensation in the form of attorneys' fees for what the motion to dismiss calls a "frivolous and malicious" lawsuit.

The next court date in this matter has not yet been set.