John Marcum for NC Senate
Surprahz! Surprahz! Surprahz!

— Private Gomer Pyle, USMC
I'll have to admit that NOT many people saw this coming.  I think it must have been a spur-of-the-moment thing for John.  The only political web site out there for him is for his last race for Pinehurst mayor. 
I had to triple-check with the county board of elections to be sure I was not imagining this.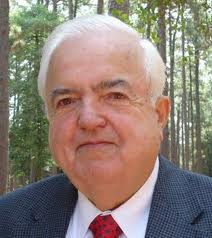 John Marcum is a well-known anti-establishment figure in Pinehurst.  He and his supporters have clashed frequently with Pinehurst village government. Marcum ran unsuccessfully for mayor of Pinehurst in 2007 and 2011.  (I, for one, will not be holding my breath waiting for Pinehurst mayor Nancy Fiorillo to endorse this campaign.) 
(The word on the street had been that county commissioner Tim Lea would file for this seat.)   Marcum will join incumbent Jerry Tillman, and Aberdeen's Tommy Davis in the GOP primary field.
There is no word yet on what Marcum's platform will be.  One thing's for sure — if his past campaigns are any indication, John Marcum will make this GOP primary loud, rowdy, and interesting.  He'll stir it up.