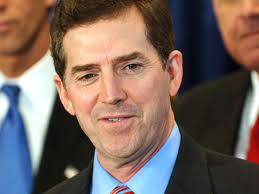 US Senator Jim DeMint (R-SC) caught us all off guard with his announcement today about resigning his seat and taking over the presidency of The Heritage Foundation.   For years now, DeMint has been THE VOICE of common sense conservatism in The US Senate — often a lonely, frustrating  task.   His Senate Conservatives Fund has helped add several like-minded voices to his daily battle in Capitol Hill's upper chamber.
Some are spinning the departure as DeMint's chance to free himself from the yoke of the GOP — a tough group to defend these days — and become more of a spokesman for bona fide conservatism.  Hopefully, he will add some energy to Heritage, which — in recent years — has become awfully complacent and comfortable among the governing class.  (Just a few years back, Heritage scholars were championing something that sounded quite similar to the ObamaCare nightmare we are now facing.)
I am not going to get my hopes up about this move.  One of my mentors from my days in DC once told me that your degree of conservatism was inversely proportional to the amount of time you stay within the confines of DC.  The longer you stay, the less conservative you become.  Even Jesse Helms — who was for years an ardent opponent of foreign aid — ended up backing all kinds of  foreign aid giveaways to Africa and partying with U2's Bono.
Thank goodness South Carolina's GOP is in much better shape than ours.  Other than Lindsay Graham and Jim Clyburn, the Palmetto State's congressional delegation is stocked with rock-ribbed conservatism.  Governor Haley — elected with Tea Party support — could appoint herself to finish out DeMint's term and be replaced by her GOP lieutenant governor.  She could fill the seat with ANY of the DC delegation — not named Graham or Clyburn — and be JUST FINE.
Conservatives and Tea Partiers —  hardworking Americans, in general — have quite a fight on our hands.  We're not getting much aid from our GOP representatives to Congress in fighting off the avalanche of new taxes being shoved down our throats by Obama and Reid.  A fresh field commander — free of having to toe the GOP party line — could be just the thing to help turn the tide.