It's Monday. Break out the zip-ties ….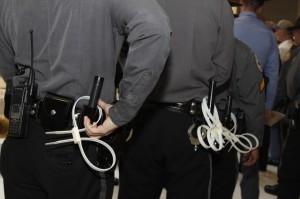 Drink plenty of Pepto-Bismol before turning on the local TV news Tuesday morning.  If past Tuesday mornings are any indicator, we will be made nauseous by sickening video love-fests to Bill Barber and his carnival sideshow's never-ending run on Jones Street.
Triangle-based blogger Lady Liberty has an interesting piece highlighting something else major the media is ignoring — the large concentration of radical SEIU and Occupy activists among the ringleaders of the Moral Monday rabble.  An uprising of concerned, mainstream, average North Carolinians?  *SURE*.
McClatchy Rob thinks we're all paranoid for thinking that there is a nefarious left-wing BluePrint plot, involving leftist activists and eager members of the media, to smear Republicans and conservatives in North Carolina. But if Rob is right, HOW do you explain spin by Moral Monday ringleaders being circulated through the state's media unchallenged?  
NCPolicyWatch — the Rob Schofield & Chris Fitzsimon-driven leftist vehicle that is also at the center of the BluePrintNC movement — initiated the comparison of Bill Barber and legislative Republicans to MLK and Alabama's Bull Connor.  State government columnist Scott Mooneyham picked up that ball and ran with it.  Now comes Jim Dodson — a columnist for our failing local newspaper here in Moore County — moaning about Republicans and conservatives taking our state back to The Jim Crow era.   (Way to throw Paula Deen in there, Jim.  By the way, you didn't mention that she campaigned for Obama.)
I guess its just a coincidence that a meme can start with a far-left think tank and work its way through the bowels of our allegedly mainstream media.  We're getting the mushroom treatment. folks.  The scam rolls on ….