Is this the line for Chick-fil-A?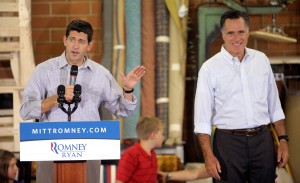 Once again, North Carolina cities were beset with crazy long lines of people.  If it wasn't Sunday, many people would have thought we were having another Chick-fil-A  Appreciation Day.
Crowds ranging from 4000 in Mooresville to more than 10000 in High Point greeted Mitt Romney and Paul Ryan as they kicked off the second leg of their southern bus tour.   Once again, North Carolinians let their feet do their talking.  They turned out in droves to support Chick-fil-A when it was under attack from the liberal hordes.  Folks turned out in droves again today to see the two guys that will be evicting Barry & Joe from DC in November.   (Many people waited in line for HOURS in the summer heat just to get into the campaign venues. )
Several members of the mainstream media commented that these were the biggest crowds they have seen for ANYONE on the campaign trail.   Longtime political pros I talked to today — who were on the ground at the Romney-Ryan events — tell me you probably have to go back to Reagan in 1980 for comparable crowds and enthusiasm in The Tar Heel State.
I'm old enough to remember THAT campaign.  Comparing 2012 to 1980 is a valid comparison.  In 1980, the country had been beaten down on the economic, military and foreign policy fronts by an administration filled with incompetents.  (Sounds familiar … ) People were hungry for a change.  They were hungry for inspiration — for someone to lead the nation out of a mess and back in the right direction.
People are scared to death about the economy.  The addition of Paul Ryan — a vocal proponent of free market economics and reining in entitlements — has energized the grassroots to a degree that Romney could not have come close to on his own.   Romney and Ryan are vessels for the American people's widespread hope for dramatic change in DC.
The Republican Party needs to understand that these crowds are the personification of the public's desire for radical change and limited government.  It's not a rediscovered love of the Republican Party.  The GOP establishment needs to understand that the national ticket's — and party's — current popularity is based on the assumption that it will give the people what they want.
Team Obama — and anyone else viewed as part of "the problem" —  SHOULD be concerned about the public reaction to Romney and Ryan's road show.