Is it Bo, Moe, Joe, or "No, this really isn't my dog" …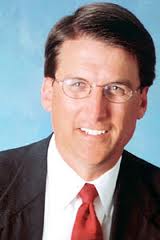 Gaffes and scandals pop up from time to time in campaigns.  Like the changing of the seasons or the rising and setting of the sun.  They just happen.  But it is truly a shame when a candidate produces and distributes something that leads to embarrassing publicity for his own campaign.
That is what former Charlotte Mayor Pat McCrory — the presumptive GOP nominee for governor in 2012 — has done, again.
(Remember, in his 2008 campaign against Bev Perdue when some goofy stuff showed up on his campaign web site?  Pat denied any involvement by his campaign, and claimed his campaign web site had been hacked.  No one has been charged or convicted over that episode, by the way.)
McCrory's campaign has released a very nice, very folksy video on YouTube where the candidate introduces himself and his PR offerings, and teases viewers with the promise of "some nice announcements" in the near future.
McCrory is casually dressed and sitting on the front porch of a house, petting a chocolate Labrador Retriever.  He introduces the dog to viewers as "Bo," who he and his family adopted from a shelter.   Later in the video, McCrory turns to look down at the dog, like he's preparing to reference the dog, but forgets the dog's name.  At the end of the video, he refers to the dog twice as "Moe."
Wow.
Jack Hawke, one of the real geniuses within the NCGOP, has been advising McCrory.  I am surprised Hawke would let something like that go public.  In its current form, the video fails to excite you about the campaign, but raises two uncomfortable points about McCrory: Either he is (1) so dumb he doesn't know the name of his family dog, or (2) THAT is not really the McRory family dog (but only a living prop for the video shoot)  and McCrory is trying to deceive us.
State Democrats' opposition research could not have done a better job on McCrory.  It's a shame the Republican and his people did it to themselves.
Somebody needs to call McCrory HQ and tell them to pull that video. QUICK.
As it stands, we will spend a good chunk of the campaign talking about McCrory's dog, instead of how to bring the state back from the brink of insolvency.