Holding taking heat over decisions re: John Edwards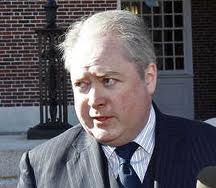 George Holding, former US attorney and current GOP nominee for the 13th congressional district, is facing questions from Edwards case jurors, legal experts, and the mainstream media about his decision to probe and prosecute former Democrat U.S.  Senator and vice-presidential nominee John Edwards:
[…] From the start there were allegations from the Edwards camp that he was a victim of political score settling. Holding, a Republican from Raleigh who announced his candidacy for a U.S. congressional seat from the 13th District just weeks after Edwards' indictment, rode herd over a case that ultimately was tried in a different district from his own.

Edwards' lawyers noted Holding's run for office in a 31-page memorandum in support of their September 2011 motion to dismiss the case. The memo also described Holding's role as a former staffer to Republican U.S. Sen. Jesse Helms, his campaign contributions to the Republican senate incumbent Edwards defeated, Lauch Faircloth, and Holding's time as a law clerk to Judge Terrence Boyle, a federal district court judge in the Eastern district whose nomination to the Fourth Circuit Court of Appeals was blocked by Edwards.

"In this prosecution, a major figure in the Democratic Party had been brought down and, as it turns out, a Republican U.S. Attorney with political ambitions of his own has used this high-profile case to his personal benefit," the Edwards defense team said.

Holding has declined to comment on the Edwards case.

Defenders of the Edwards indictment note that it was approved by the U.S. Department of Justice during a Democratic administration. Edwards' attorneys said in court that the department had little choice but to approve what Holding initiated. They said top Obama administration officials would have been skewered as being partisan if they did not move forward with the case.

Holding's campaign did defend the cost of the prosecution in the May primary race when his GOP opponent, Wake County Commissioner Paul Coble, called Edwards' prosecution political. Holding has campaigned on his willingness to investigate alleged corruption by Edwards and another prominent North Carolina Democrat, former Gov. Mike Easley.

"I think there is no question that Holding thought those two cases would take him to Congress," Coble said.

At the time Holding's campaign strategist, Carter Wrenn issued a statement calling Coble's remarks "bizarre." […]
Jurors in the case have told the media that they couldn't understand why the case was being tried in criminal court.  They suggested that it would have been more appropriate for the Federal Election Commission to have heard the case.
Former candidate Coble's assessment of the cases matches what I've heard from law enforcement sources who worked with Holding in the US attorney's office:  Holding wasn't qualified for the job, but got there thanks to his family's political connections and contributions.  His guiding principles were to (1) disguise his incompetence, and (2) create a situation that would aid his political ambitions.  
Well, it's too bad that this happened AFTER the 13th district GOP primary.  Holding is in an overwhelmingly GOP district facing a weak Democrat opponent in November.  So, he's already got his two years in Congress.  Maybe he'll use that time to make up for the mess he made during his time as USA in Raleigh.