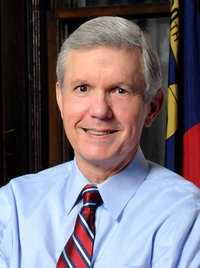 THIS is our lieutenant governor — Walter Dalton.  He wants to replace Bev in that big beautiful house on Blount Street.  Dalton HAS been one of the most low-key top dogs in Raleigh in decades.   A Democrat friend of mine — who is a major player for the party in southeastern North Carolina — was quite perplexed when I told him Walter Dalton was going to run to succeed Bev:
Walter Dalton?  Who in the hell is that? He's been lieutenant governor?  I thought it was still Dennis Wicker.  I've met every Democrat running for governor and president since 1976.  I've never seen this man.  I think this  is a Republican trick to help your man McCrory.  I wouldn't know Walter Dalton if he got in front of me, danced a jig, and sang Yankee Doodle Dandy. Walter Dalton! Give me a break.
My friend is even more perplexed over Bill "Two Percent" Faison, his mustache, and his wild and crazy divorce.  Of course, my buddy is still not thrilled with Bobby "Boom Boom" Etheridge's internationally renowned viral video.
My buddy is threatening to sit on his hands for the governor's race or — maybe — do the previously unthinkable: Vote Republican.  Either one of those options is bad for the Democrat nominee for governor.