Gas Prices: Up, Up and Away …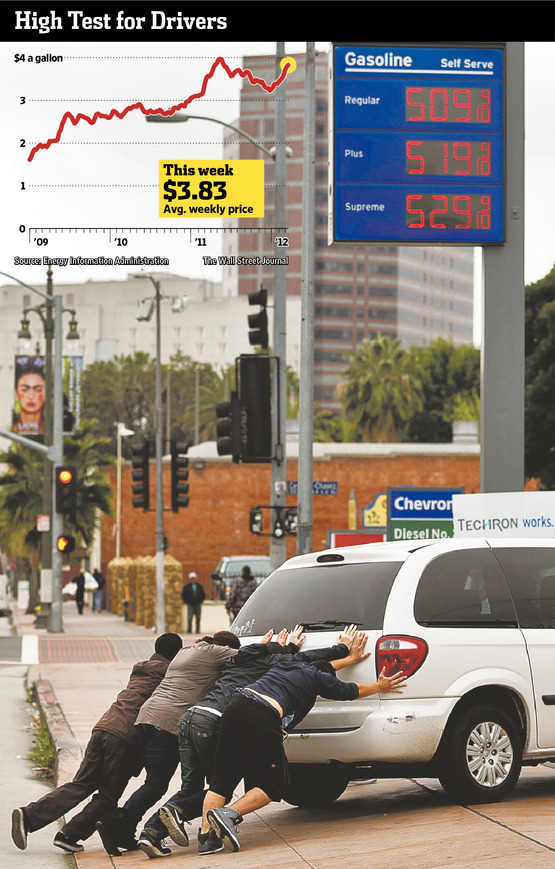 Oh, the news keeps getting  *better* concerning gas prices. BarryO — after telling us in 2008 that gas prices were ALL George W. Bush's fault — now says there is NOT MUCH the president can do about gas prices.  The Wall Street Journal reports that Barry's rhetoric and his proposal to release some of the oil reserves will not do much to offer American drivers relief during the run-up to the elections:
U.S. gasoline prices jumped 6% in February, and market experts predict they will climb higher because critical refining operations in the Northeast are shutting down.

From New York to Philadelphia, refineries that turn oil into gasoline have been idled or shut permanently because their owners are losing money on them. Sunoco Inc. is expected to close the region's largest refinery in July, taking another 335,000 barrels per day in production capacity off the market.

The East Coast refineries are getting squeezed by the soaring cost of crude oil, the major component in gasoline. The cost of oil has jumped in the past year due to global economic growth and rising tensions between Western nations and Iran, a major producer. Refineries haven't been able to increase their own prices enough to compensate.

The government said Friday that the increase in gas prices had contributed to a 0.4% overall increase in consumer prices in February. Prices at the pump averaged $3.831 a gallon on Friday, according to the AAA, formerly known as the American Automobile Association.

Rising gas prices pose a risk to the economic recovery, which is showing signs of gaining steam after faltering last year.

The surge is putting pressure on President Barack Obama to take steps to tamp down prices, and it threatens to erode credit he may get for an improving jobs market. On Thursday, U.K. Prime Minister David Cameron said he and Mr. Obama had discussed tapping their nations' strategic oil reserves to help alleviate tight oil supplies world-wide. In a speech Thursday, Mr. Obama said "there is no quick fix" for high gasoline prices.

Still, analysts said tapping reserves may do little to resolve the pricing pressure, which is likely to get worse as summer approaches and vacationing Americans hit the highways. Gas usage typically is 3% higher in the summer.

Commodities markets are forecasting rising prices. Gasoline futures on the New York Mercantile Exchange are up 22% this year, and settled Friday at a 10-month high of $3.3569 a gallon. Average pump prices tend to follow futures by a few weeks, averaging about 70 cents a gallon more, after taxes and transport costs. Based on futures, retail prices should average above $4 a gallon soon. Refineries in the Northeast are under financial pressure for two reasons. They have limited access to cheaper, high-grade crude oil produced in the middle of the U.S. because there are not enough pipelines, which is forcing them to pay more for oil from elsewhere, most of it from overseas. And many of their facilities aren't set up to process lower-grade crude that is cheaper.

As Northeastern refining capacity declines, it will force distributors in the region to buy gasoline from elsewhere, pushing up prices across the country and increasing the likelihood of price spikes, government officials and analysts warn.

"There's now going to be a question if we can get enough gasoline into the East Coast for summer," said David Greely, an energy analyst at Goldman Sachs Group Inc. The U.S. Energy Department has warned a shortfall could develop as early as July.

Prices could head to record levels, potentially as high as $5 a gallon in coming months, said Ed Morse, global head of commodities research at Citigroup Inc.

Oil and fuel products come into New York by tanker and pipeline. Much of the oil originates in the Atlantic basin from places like Nigeria and the North Sea. It is then refined into gasoline. The East Coast imports gasoline, too, although that is expensive.

Gasoline production in the Northeast is expected to decline to 350,000 barrels a day in 2013, from 580,000 barrels a day in 2011, according to government estimates. By 2013, the government estimates, motorists in the Northeast will be using 240,000 barrels more each day than refineries and imports are providing right now.

There are plenty of refineries around the world to keep the U.S. well supplied with gasoline and other fuels over the long term. But the drop in refining capacity over the past year means the industry hasn't had time to reconfigure its supply routes from areas such as the Gulf Coast and Europe.

"The global refining system is ample enough to replace those lost barrels. The problem is they're not in the right place," said Mr. Morse of Citigroup.

Mark Routt, a consultant for KBC Advanced Technologies, said the industry will figure out a way to easily and cheaply get gasoline to the East Coast, from the Gulf Coast and the Midwest, but it will take time.

Colonial Pipeline Co. this week announced plans to expand its pipeline system to increase shipments to the Northeast, but that won't be completed until 2014.

At the beginning of 2010, the East Coast had 12 refineries. Since then, four have closed for good or have been idled, according to the U.S. Energy Information Administration.

ConocoPhillips's Trainer refinery and Sunoco's Marcus Hook refinery, both in Pennsylvania, were idled in December.

Philadelphia-based Sunoco, which refines and sells fuel, said it will shut its plant in that city by July if it doesn't find a buyer. Known in the industry as "Sunoco Philly," the refinery is the oldest and biggest on the East Coast. It first turned crude into fuel in 1870, 38 years before Henry Ford sold his first Model T.

Sunoco spokesman Thomas Golembeski said high oil prices and falling demand destroyed profit margins. "Our Northeast refining business has lost nearly a billion dollars in the past three years, and those losses have threatened Sunoco's very existence as a company," he said.

He said Sunoco has taken steps to make sure there are adequate supplies for customers this summer, even if the refinery is closed.

Some analysts doubt that gas prices will continue to rise for long. For one, overall demand has fallen in the U.S. and is expected to hit an 11-year low this year, due both to increasing vehicle fuel efficiency and high gas prices. Typically, as demand falls, so do prices.

Alan Gelder, head of oils research at consulting firm Wood Mackenzie, said prices are already high enough to support additional shipments from refineries in Europe or the Gulf Coast, so "supplies are not a concern."

But John Woods, an independent trader, said hedge funds and other large speculators are making bullish bets on gasoline. Such bets have risen in number by 51% since the beginning of the year, according to data from the Commodity Futures Trading Commission.

"The smart money is doing it now, because you get more of a jump on it," Mr. Woods said.