FOUR charged. (Seriously?)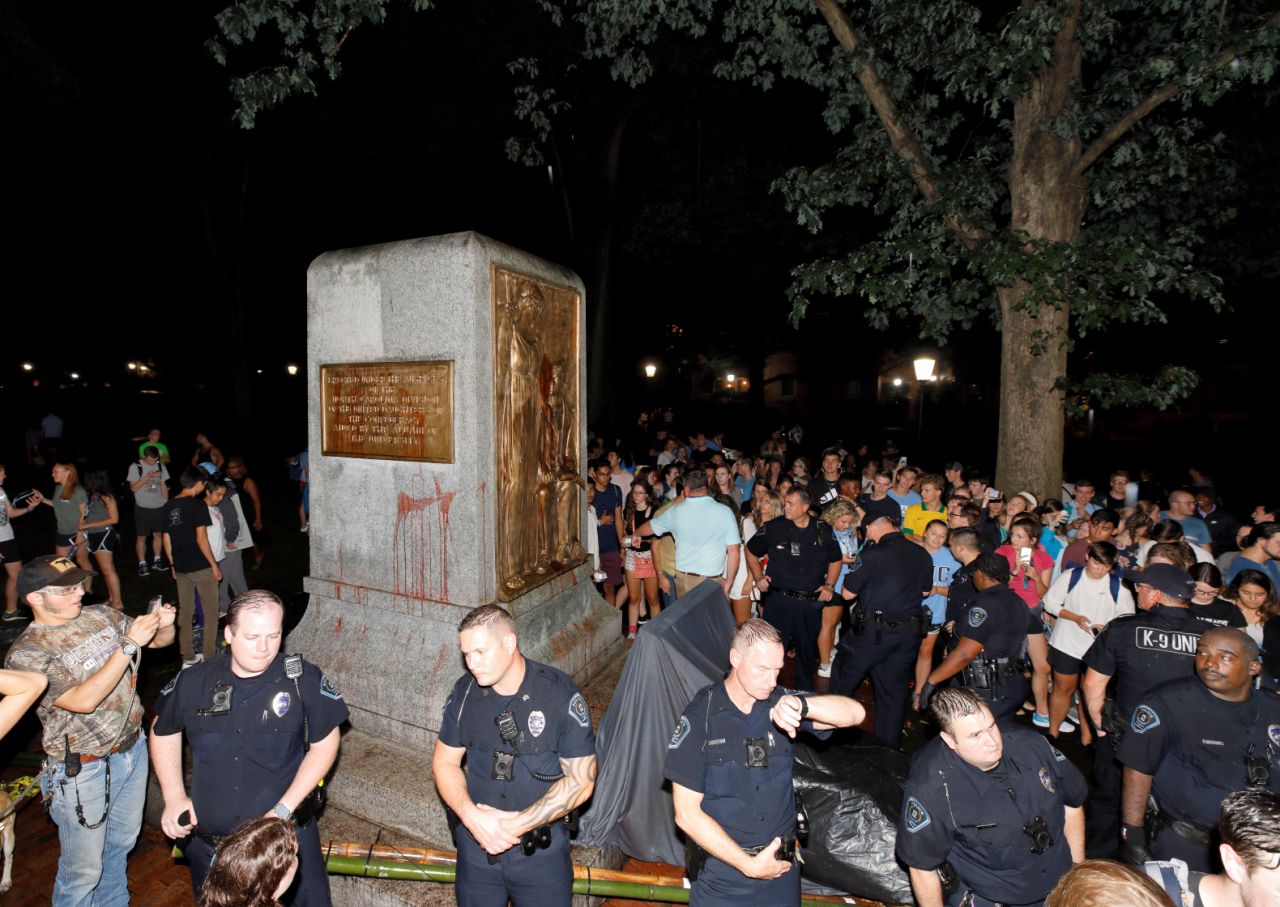 Out of all the potential targets they had — that huge mob that vandalized and toppled Silent Sam — authorities have only managed to charges FOUR people.  Never mind all the video from the drivebys and the social media material.  Just FOUR:
[…] Initially, officials said three people were charged in the Monday incident, but UNC officials said Saturday that a fourth person was charged with concealing one's face during a public rally and resisting arrest.

The three others charged in the statue toppling incident were arrested Saturday, UNC officials said in a news release.

Here are the names of those arrested and charged with misdemeanor riot and misdemeanor defacing of a public monument in Monday's incident: Jonathan Fitzgerald Fuller, 27; Lauren Aucoin, 23; and Raul Arce (a.k.a. Raul Mauro Arce Jimenez), 27. […] 
First of all — rioting is a misdemeanor ????   Second, those suspects all appear to be a wee bit outside of college age. Kinda throws a wet blanket on the driveby narrative about UNC students standing up to "white supremacy."  *Can you say ANTI-FA, boys and girls?*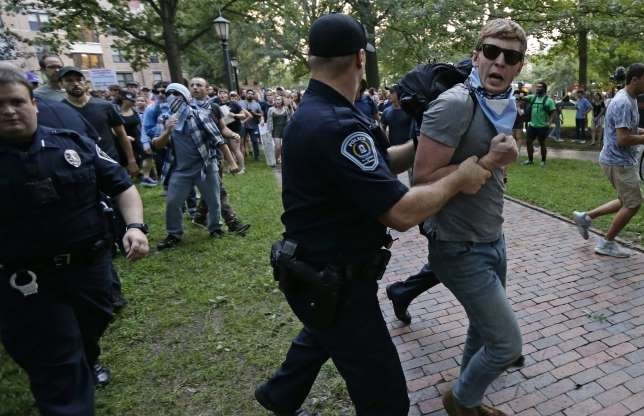 Meanwhile, THIS GUY has IDed a whole bunch more people involved in the Silent Sam mayhem.  It's amazing that one blogger has accomplished so much more than UNC administrators, UNC police, and Chapel Hill police were able to. 
Meanwhile, the drivebys at the money-bleeding McClatchy paper in Raleigh are trying their damnedest to try and make Silent Sam defenders AS BAD or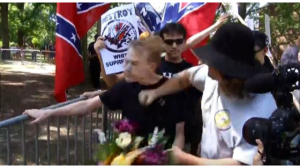 WORSE than  the masked leftist vandals themselves.  We're getting all kinds of copy from them about apparent ruckuses being caused at the Silent Sam site by Sam supporters.  (I'm suuuuuure it had more to do with a couple of guys brandishing Confederate flags getting jumped by antifa freaks and defending themselves.)
The N&O told us about some people they call 'Influencers' who say all Confederate monuments need to be moved out of public areas.  (NO word yet on whether they favor removing the statue of N&O founder and KKK fanboy Josephus Daniels from Nash Square in Raleigh.):
[…] "Confederate monuments should not be placed in spaces of general public reverence as they do not represent the community standards of the day," wrote survey respondent Paul Cuadros, executive director of the UNC Scholars' Latino Initiative and associate professor at the UNC School of Media and Journalism. "They are divisive symbols and not unifying ones."

Of the 30 respondents who said Confederate monuments should be removed or taken elsewhere, 18 are women. Twenty are white, seven are black, and one is Asian.

Most are Democrats — 18 — compared with four Republicans, six unaffiliated voters and two people who did not disclose a political affiliation.

Catherine Lawson, a Raleigh-based lawyer, said Confederate monuments were not created in honest remembrance, but to preserve white supremacy and racial intimidation and to recast history. They belong in a museum with historical context and an explanation with the role they had in obscuring facts, she said.

"As a descendant of Confederate soldiers, who has had the surreal experience of tracking her family's possible connection to the people who enslaved Frederick Douglass, I understand the desire to pretend that our history stays in the past. But it doesn't," Lawson wrote. "We still live in the shadow of a history that will not lift until we reckon publicly with a legacy of multi-generational racial violence."

North Carolina should preserve Confederate statues, because they honor a part of the state's history, according to Patricia Timmons-Goodson, who serves on the U.S. Commission for Civil Rights and is a former justice on the state Supreme Court.

"Having said that, they should be preserved. The monuments should be placed in museums or spaces reserved for relics," Timmons-Goodson wrote. "Our public spaces should be reserved for those monuments that lift up the highest ideals and most inspirational goals of this state. One must not forget that the leaders of the confederacy were traitors and there would be no United States of America as we know it today, if they had their way,."

Mark Jewell, president of the North Carolina Association of Educators, suggested the General Assembly should change a 2015 law that protects monuments and memorials, "so there is a better path forward to remove or relocate these monuments. We should be a welcoming state to all."[…]
Isn't it interesting that someone allegedly all for education is advocating censorship and revisionism?
Of course, they threw in former McCrory chief-of-staff (and Art Pope manservant) Thomas Stith for a little "bipartisan" flavor:
[…] McCrory's then chief of staff, Thomas Stith, said the original purpose of Confederate monuments was to honor the lives of Confederate soldiers who died in the Civil War. But the monuments have "grown to symbolize the abhorrent policies of racial discrimination," Stith wrote.

"Regardless of their intended and/or actual purpose, they are BENIGN. Our more pressing issue is the current loss of life of African Americans in our cities across the country. … Issues ranging from health disparities to the education gap are clear and present dangers to communities throughout our state," Stith wrote. "The symbols of racism are much less impactful than the realities played out daily in growing economic divide between the 'haves' and 'the-have-nots.'"[…]
*Wow.Chris Fitzsimon COULD NOT HAVE said it better.*