FirstBank CEO being wooed by Dems to run for US Senate
That's what's being leaked out there.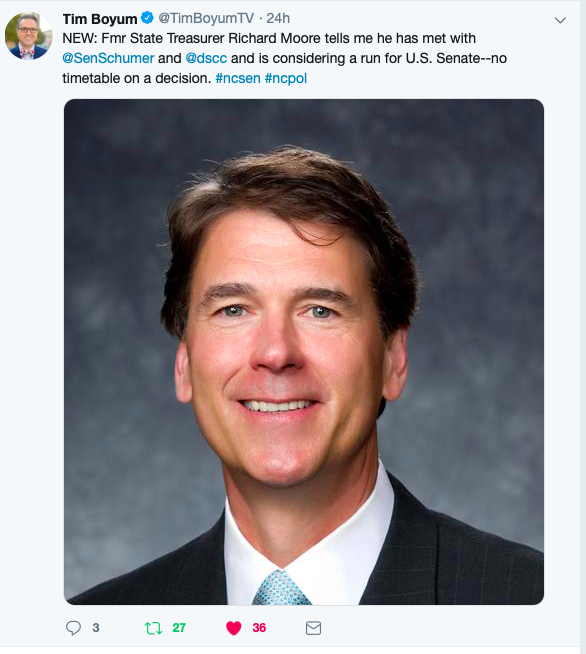 Hmmm.  If he makes it to a  general election face-off against Thom Tillis, we'd have on our hands a battle royale between two of the hottest messes in North Carolina politics.
I first encountered Moore when I was a drive-by during the 1994 election cycle.  Moore was a former federal prosecutor and legislator  seeking to fill the open 2nd congressional district seat.  (He ended up losing to Republican David Funderburk, who in turn  ended up self-destructing spectacularly in 1996 in his reelection race against Democrat Bob Etheridge.)
In 2000, Moore got elected state treasurer.  In 2008, he gave up that job to run for governor — losing in the primary to Bev Perdue.
Since 2012, Moore has been  the CEO of First Bancorp — the parent company of Southern Pines-based First Bank.
During his lengthy career, he's been the focus of some serious ethical questions that have made it into the drive-by media.  In 2008, while running for governor, Moore was accused by the Perdue campaign of exaggerating his educational background.  (Something  similar happened to Tillis in 2014.  So, they have that in common.)
A 2007 Forbes article found that an unusually large number of firms that did business with the Moore-led treasurer's office had employees that donated to Moore's campaign fund.
In 2010,  the State Employees Association of North Carolina sued Moore — alleging that he benefited from pay-to-play arrangements in his management of the state employee pension fund. 
Also, in 2010,  the private firm that hired Moore was accused of receiving excessively high payments from the treasurer's office while Moore was serving as treasurer.