Ethics & the race for NC GOV: What about Walter Dalton's lobbyist daughter?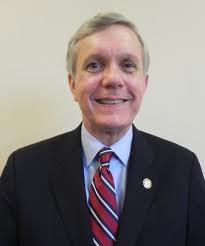 The stenography pool in The N&O newsroom trumpeted recently an announcement of an ethics reform package by Democrat gubernatorial candidate Walter Dalton.  Apparently, Dalton wants to clean up the legislature — where he has been serving since 1996.  Check out this piece of snarkiness from The N&O piece:
"The vast majority of the people I've served with in the Senate and state government are good people," said Dalton, the current lieutenant governor and a former state senator. "But we cannot tolerate a breach of confidence in our government."

If elected, Dalton also promised to require his senior advisers and cabinet appointees to sign performance contracts and make them public. On the state budget process, he vowed to hold public hearings and open meetings with lawmakers about his spending plan.

One particular point in Dalton's three-page proposal appeared aimed at Republican rival Pat McCrory: more detailed financial disclosure forms made available online.

Democrats have pressed McCrory to produce his federal tax returns amid questions about his job as a policy consultant for a Charlotte law firm that lobbies state government. Dalton supplied his state and federal returns earlier this year.

McCrory filed the required disclosure form, but his finances remain largely hidden. He received more than $5,000 in compensation from 10 sources in the past year, but how much he made overall – and his sources of lesser income – remain unknown. He has repeatedly refused to release his taxes or a client list.

Dalton stopped short of requiring gubernatorial candidates to release their taxes, but he said it's a point worth more discussion. "(Voters) deserve to know how their public servants make a living and what potential conflicts they have," Dalton said.
Oh, really?  Speaking of "potential conflicts", what about Walter's daughter — Elizabeth Dalton Robinson?  She interned as a lobbyist for UNC in 2001 while her daddy was a state senator chairing a committee that handed out money to things like, um, universities.  In 2002, she graduated from college and jumped right into the world of lobbying in Raleigh.  (Daddy was still in the Senate then.  He graduated to the office of lieutenant governor in 2008.) Mrs. Robinson is STILL a registered lobbyist in Raleigh — working the legislature where her daddy presides over the state Senate.
Let's take a break from harassing Pat McCrory to look at Mr. Dalton and Mrs. Robinson.  Has she represented ANY of daddy's law clients from Rutherford County?  Has she, or any of her clients, received special treatment from the legislature or state government as a result of daddy's political position?
I asked one of the top-dog political writers at The N&O about this roughly four months ago.  His response:
"Yeah, that is interesting.  But Rob Christensen is handling the governor's race.  Let me pass that information to him."
Four months later — not a word about Walter's lobbyist daughter.  (For the record, it took me about an hour to get all I needed from a Google search.)  But we get weekly stenography and other assorted blather from the Dalton campaign and Richard Morgan pal Michael Weisel insinuating that Pat McCrory is a bought and paid for lobbyist who needs to release his tax returns.
While we're at it, Dalton STILL lists himself as a senior partner in a Rutherford County law firm.  He's employed full time as lieutenant governor.  Has he done any special favors for the firm's paying clients?  Inquiring minds want to know.