Did BarryO confuse Hannukah and Kwanzaa ???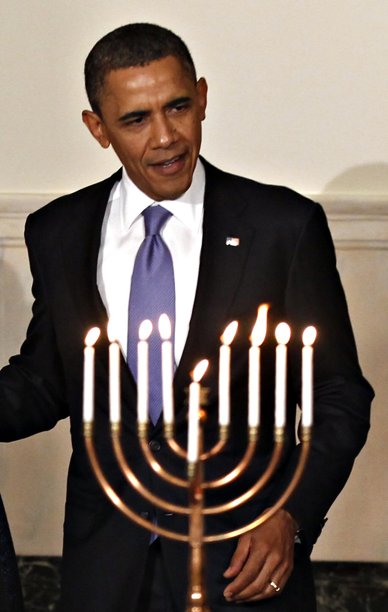 It's hard to believe BarryO could  get something wrong.
(I know. I know. He thought there were 57 states, Hawaii was in Asia, and that he was in TEXAS when he was in KANSAS.  Blah Blah Blah. Vast right wing conspiracy. Right, Hillary?)
This week, BarryO and his baby-mama had a photo op commemorating the Jewish celebration of Hannukah.  I noticed something peculiar, right away.  I must have been right, because Rush noticed the SAME THING on Thursday:
Yesterday Obama celebrated Hanukkah. That means tomorrow is Christmas Eve, and next Wednesday is New Year's Eve in Obamaville. Hanukkah is not for two weeks, and he lit every candle in the menorah! You're supposed to do it over an eight-day period. He did it all at once just to be done with it. As he says: This is to show my devotion to Israel.

Snerdley, what do you think the odds are that Obama confused Hanukkah and Kwanzaa?  When was Kwanzaa invented? (interruption)  No, '66.  I looked it up.  Kwanzaa was invented 1966.  It was invented by a guy named Ron Karenga.  Yeah.  Yeah.  His name was Ron Karenga but he had an alias, Dr. Maulana Ron Karenga. (laughing)

So he was a doctor.  And he invented Kwanzaa, which is a seven-day feast, runs December 26 to January 1st.  In 1966 he branded it a black alternative to Christmas.  The idea was to celebrate the end of what Ron Karenga considered the Christmas season exploitation of African-Americans.  Now, what was that?  What was the Christmas season exploitation of African Americans?  Was it all the black Santa Clauses that were out there in the department stores?  What was it then?  What was the exploitation of African-Americans at Christmastime?  According to the official Kwanzaa website, as opposed to the Hallmark Cards Kwanzaa site, the celebration was designed to foster conditions that would enhance the revolutionary social change for the — anyway it also has a candelabra. It was seven days, seven candles instead of eight for Hanukkah, and you light 'em all at once.  So Obama had a menorah there and he lit 'em all. I'm sure he thought it was Kwanzaa while talking about loyalty to Israel. 

What a day, folks.  Now we have Jon Corzine testified yesterday, "I don't know where" — (interruption) What?  He did.  He lit all the candles on the menorah.  He lit them all.  Lit them all.  Well, let me tell you something.  The White House Christmas party for the media was December 6th.  That's about eight or nine days earlier than usual.  See, everything is based on Obama getting out of town on December 16th to head over to Hawaii.  So that's why he lit all the candles.  He didn't have time to wait for Hanukkah to actually play out, he's gotta leave.  He can't wait. He doesn't have time to hang around for Kwanzaa. I mean that doesn't start 'til December 26th. He's gotta do that now.  He has to get outta here by December 16th, December 17th.  That's when vacation starts.  So just go ahead and light all the candles on the menorah and talk about how you love Israel and be done with it. (interruption) I know, I know, if Bush had tried that… (laughing)  If anybody else had tried that, I know, I understand.