Democrat PAC smacks McCrory AGAIN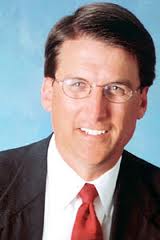 It's the eve of the NCGOP convention, and the Democrats are carpet-bombing the guy at the top of the state Republican ticket.  Another ad, questioning Pat McCrory's ethics has come out.
The McCrory campaign has already threatened litigation against the PAC behind this, and a previous ad, as well as WTVD NewsChannel11.   Is Team McCrory going to keep playing defense, and sic the lawyers on this ad, as well?
I have some questions about this second ad.  It hits McCrory for not "disclosing" his hours or salary during his time as a Duke Energy employee.  Was he required to do so?  Was it a big secret that he was on the Duke payroll?
Also, the ad claims McCrory flew to DC on a Duke corporate jet "as mayor" to testify on behalf of a regulation that greatly benefited Duke Energy.   "As mayor?"  Was the city financing the trip?
 If he went "as mayor" and saved the taxpayers money by using the Duke plane, that sounds great.  I understand his job was in public affairs for the energy giant, so it makes sense for him to be speaking publicly on its behalf.  Duke is a major employer in Charlotte, so it sounds like McCrory did some good (1) as an employee and (2) as a public servant.  
If you go to McCrory's web site, you see a lot of press releases whining about negative ads and demanding that the Dalton campaign not go negative.  I can't think of the last candidate who used those tactics and WON. 
It's not about being "negative." It's about going on offense, staying on offense, knocking your opponent off stride, and driving down the court or field for a score.  Jesse Helms knew all about that. He followed that game plan, and got 30 years in the U.S. Senate.
If the former Charlotte mayor listened to me, here is what I would advise:
1) Talk about the budget deliberations going on in Raleigh. Express some concern about how spending is going up, and the debt question is getting kicked down the road for future generations.  THAT is not what North Carolinians voted for in 2010.   Pat is more popular than ANYONE on Jones Street.  Use  that popularity to do some good.  Demonstrate your leadership skills.
2)  Ridicule the ad's suggestion that Walter Dalton will "clean up Raleigh."  According to his own web site, Dalton got his law degree in 1975 and went to work for Rutherford County as the county attorney in 1976.  It also says that Dalton was the managing partner in a law firm.  So, Dalton was in private business WHILE he was serving the people of Rutherford County.  If  THAT was OK for him, I guess it should be OK for Pat McCrory. 
Dalton has been on the public payroll continuously since 1976.  Pat got a minor part-time salary during his 14 years as mayor of Charlotte. He worked full-time for Duke Energy and, for the last four years or so, has been with the Charlotte law firm.
Walter Dalton has been on Jones Street in Raleigh since 1996.  During that time, the state budget has been busted, debt has skyrocketed, and we've seen the Jim Black & Mike Easley affairs and various other ethics scandals.  (let's not forget Mr. Parmley and the alleged crotch-punching at Democrat HQ.) Where has that esteemed Dalton leadership and "clean-up" skill been?
3)  Check Dalton's tenure as Senate Appropriations Committee chairman.  Look at all of the stuff that passed through his committee.  Point out how state spending and state debt GREW during his time as chairman of that committee.
4) Dalton's daughter has been a registered lobbyist in Raleigh since 2002.  Elizabeth Dalton Robinson finished undergrad and landed a plum job with the top lobbying firm in Raleigh — while her dad was finishing up his third term in the state Senate.  It's a real plus to be represented before the legislature by a lobbyist whose dad HAPPENS to be chairman of the Senate Appropriations Committee.  I'd take a look at how Dalton handled issues and legislation important to clients his daughter was representing.
Lock and load, Pat. If they fire at you with a howitzer, drop a bunker-buster on them.  This is not tiddly-winks or patty-cake.  This is grown-up serious business with the future of our state at stake.