Craven County: GOP establishment taking their marbles, going home?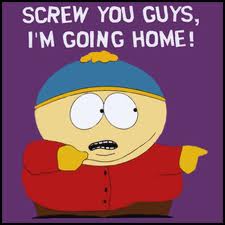 Well, it looks like the mainstream media (MSM)  has finally noticed the hubbub within the Craven County GOP:
[…] A far right faction of Craven County Republican Party, many of whom say they are not in the "tea party," now has the local GOP at least sipping tea. […]
Is this one of McClatchy's rags?  That lede is straight out of their stylebook.  Isn't it *funny* that folks who actually want to adhere to the party platform are labeled 'far right'?
This MSM story details the action within the Craven GOP that we have documented extensively HERE, HERE, HERE, HERE, HERE, HERE, HERE, and HERE.
One of the more interesting parts of the story involves some statements by a former Craven County GOP chairman:
[…] The Craven GOP split became unavoidably apparent at the party's spring convention when recommendations by the nominating committee were spurned by the right wing group, but it did not have sufficient numbers present to elect a chairman.

The obvious division, however, prompted longtime local GOP leader and its then chairman, Trent Woods Mayor Chuck Tyson, to withdraw from the competition and walk out. With three nominations on the floor, the more moderate Paul Hill, former chairman of Craven County Republican Men's Club, was elected.

Tyson, who did not come to the Thursday meeting, said by phone, "That group is just a vocal handful. Craven County Taxpayers Association probably doesn't represent 1 percent of the voters in Craven County."

"It's going to divide the party," he said. "Don't let anybody construe this as a tea party group taking over the real Republican Party here. The far right is as bad as the far left."

"There are a lot of Republicans who don't see things as radically as this crowd and we will coalesce and do our thing, electing good quality Republicans. Most of the money for Craven County GOP is raised by a handful of people and those people, including myself, will continue."
One question that needs to be asked:  Where is all of that money Tyson says he and his friends raised?  Sources on the ground in Craven tell me the recently-departed chairman never appointed a finance chairman and had no serious fundraising plan in place.  The county party's treasury cash balance is currently in the ballpark of $400.  (By the way, there are elections next week.)
Hill was afforded the opportunity of a hearing, but he chose to resign.  It sounds like the process worked like it was supposed to work.
Conservatives are regularly told that they need to fall in line and be good soldiers — smiling while supporting Republicans like Mitt Romney, John McCain, and Pat McCrory.  You get the impression from listening to Tyson that he and his establishment friends intend to isolate — and operate outside the footprint of — the county party and its new leadership.