Congressman McIntyre: Barry who?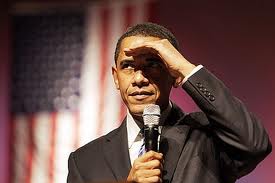 Mike McIntyre (D-Lumberton) has represented North Carolina's 7th District  since 1996.  He's voted for Democrats for Speaker, but has still managed to get campaign contributions from Republicans in the district.  McIntyre pretty much votes with his caucus, but sides with the Republicans on key issues like abortion and ObamaCare.  He's had a lot of success with straddling the fence and avoiding partisan ruckuses. The 2010 redistricting effort has taken McIntyre's home county and town out of the 7th district, and moved them into the 8th District, currently represented by McIntyre's  House colleague Larry Kissell (D-Biscoe).
McIntyre is moving forward with plans to run for reelection to the 7th district — now more Republican-leaning than it was in 2010 — even though he is no longer a resident.  (You are not required to reside in a certain congressional district to run for its seat in Washington.  But it helps.)
McIntyre's fence-straddling talents are being pushed to new limits by D.C. Republicans trying to get the congressman to endorse his party's 2012 nominee for president, BarryO:
Politico.com reported Monday that U.S. Rep. Mike McIntyre, along with other Democrats,declined repeated requests for comment on whether they will stump for President Barack Obama or support him in his 2012 election bid.

Republicans immediately latched onto the story. In a news release, the National Republican Congressional Committee said "it really says something" when McIntyre can't disclose his support for Obama's agenda.

"It's very simple," said NRCC spokeswoman Andrea Bozek. "If we can't count on our representatives to even answer whether they support the President, how can we ever count on them to deliver the policies we need to get North Carolina working again?"

McIntyre, a Lumberton Democrat, is seeking re-election in the 7thCongressional District in 2012. The district leans conservative, so aligning himself with Obama may cost him votes.

The Mike McIntyre for Congress Campaign Committee released a statement Monday afternoon, saying the incumbent congressman is "focused on doing his job and not on anyone else's election."

"Now, more than ever, it is important that we have voices of independence and folks that are willing to look at the issues – not based on party labels – but based on 'Is this good for our area?'" the statement said.

Republicans Ilario Pantano and David Rouzer are seeking the GOP nomination to challenge McIntyre next November. Both said Monday they would support whoever receives the GOP nod for president.

Rouzer, a state senator from Johnston County, said he hasn't made a decision on who he'll support in the GOP primary, as there's still a long way to go in primary season.

He said his ideal presidential candidate would be a combination of Mitt Romney, Newt Gingrich and Herman Cain.

"Any one of the candidates in the Republican field would be substantially better than President Obama," Rouzer said.

He said he believed McIntyre is in a tough position on whether to support Obama.

"I think he ought to come out and call it like it is and state what he really thinks," Rouzer said.

Pantano wrote in an email that he would support the GOP nominee "because any single one of them will do more to create jobs and revitalize our economy."

Pantano said he likes all of the GOP presidential hopefuls, but that he is partial to Cain, who endorsed Pantano in his 2010 race against McIntyre.

"As a businessman and a veteran, I like his no nonsense approach," Pantano wrote of Cain. "The American people are sick and tired of career politicians in both parties, after all, they got us into this mess."

McIntyre is trying to have it both ways when it comes to Obama, Pantano said in the email.

"If he doesn't like his party's leadership, then he should man up and take them to task, or change parties," he wrote.