Chickens coming home to roost for SEANC's Cope?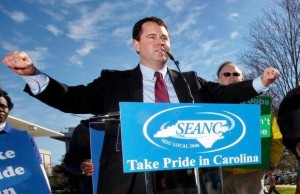 Dana Cope has stepped on some powerful toes during his tenure as head of the state employees union here in North Carolina.  Most of them have been on the starboard side of the political spectrum.  
He had the organization affiliate with SEIU — the far left international union that has served as almost a praetorian guard for Barry Obama.  Cope has had the group taking a much more aggressive stance in elections during the GOP electoral uptick in recent years.
But he's also gone off script.  Cope has publicly criticized state treasurer Janet Cowell (D) for her oversight of the state employees's pension fund.  He's also been less than impressed with The Round Rev's 'Moral Monday' nonsense.    Cope's fellow port-siders, the alleged vanguards of free speech, don't care for unapproved departures from the liberal plantation.  As you can expect, these deviations from the party line likely made Cope some serious enemies inside his own camp. 
Now some pretty serious charges are being leveled against Cope in the official newsletter of North Carolina's left-wing: 
In March 2014, the State Employees Association of North Carolina wrote a check for nearly $19,000 to Perspective Concepts LLC, a defunct computer company in Washington, D.C.

But the check was cashed by Perspective Landscape Concepts, a new Apex company that was also working at the home of Dana Cope, SEANC's executive director.

Cope says the check was for emergency work for irrigation and drainage at the SEANC office.

SEANC's own files suggest otherwise. A memo justified the check as computer work done by the D.C. company with a name very similar to the local landscaping company. The owner of the computer company said he closed the firm in 2003 and never worked in North Carolina. Cope and SEANC's general counsel admit the memo is phony but will not explain beyond saying it's a personnel matter.

There was irrigation work done at the SEANC building four months later. But that work cost $685.25 and was done by a long-established company in Garner, records show.

Since last March, Cope has directed SEANC to write checks totaling $109,078.50 to Perspective Landscape Concepts, the company also working on projects at Cope's Raleigh home, or to its owner, Perry Pope.

The landscaping bills are one of several spending practices that are being questioned by some former members of SEANC's executive committee. They question whether Cope has blurred the lines between his personal finances and the finances of an organization largely supported by dues from its members, 55,000 current and retired state employees.

SEANC, at Cope's direction, has also:

• Hired Tree2Key, a division of the company that renovated Cope's home in 2013, for $342,000 worth of work on the SEANC building, even though the company specializes in building and renovating private homes and has no apparent commercial experience.

• Spent at least $8,000 on flight lessons for Cope and has $13,000 on deposit with the same aviation training firm; Cope says it allows him to fly with a flight instructor and to travel cheaply and efficiently on SEANC business.

• Allowed Cope to put thousands of dollars of personal spending each year on SEANC credit cards. In a series of interviews, Cope has given contradictory accounts about how much of the money he has repaid but has said he has paid everything he owes.

In six interviews with The News & Observer, Cope said he has done nothing wrong. He said no SEANC money had gone to any work at his home, and he provided canceled personal checks showing payments exceeding $250,000 for landscaping and renovations.

Further, he said the SEANC executive committee had investigated and found no improprieties or misappropriation of funds.

"You can question how we spend money," Cope said, "but we have a process, and the process has been followed."

He blames his troubles on political enemies inside and outside of SEANC.

"The politics in this organization are brutal," he said.

SEANC is a private nonprofit organization, and most of its records are not public. Many of the documents for The N&O's investigation were provided by a former SEANC treasurer, Betty Jones, who works in Raleigh as a Medicaid analyst in the Department of Health and Human Services.

[…] [Cope] also has experienced difficult times personally. He filed for personal bankruptcy in 2011, financial problems he blamed on maintaining multiple residences while trying to establish his sons in a sought-after school district.

The bankruptcy proceeding, which ended in 2014, wiped out $109,000 in credit card debt. In the past two years, he's had a complete remodeling of his home with extensive landscaping and is currently building a backyard swimming pool.

He says the financial turnaround is the result of a substantial inheritance his wife, Melinda, received after her mother's death in 2013.

"I don't have to use SEANC money for my own purposes," Cope said.

[…]

A phony invoice

Another set of checks caught Jones' attention.

Her signature stamp was on a March 2014 check to a company called Perspective Concepts for $18,987.50. The accompanying memo began with "Design and build member portal database with traceable inputs to include real-time dataform interactives for non-dues active members."

Jones said she knew nothing about that. She found a company with the same name and address, but the phone number listed was out of order.

The N&O located Frank Stovicek, who had owned the firm, who said he was shocked by the invoice. He said he closed the company in 2003 and never did any work in North Carolina. He said he hoped law enforcement would track down whoever was using his former company's identity and address.

The check was cashed by Perspective Landscape Concepts, which incorporated on Feb. 26, 2014, state records show. The company had done extensive landscaping at Cope's house on Sturbridge Court, in the Blenheim neighborhood off Glenwood Avenue inside the Beltline, before the home was part of the 2014 Remodelers Home Tour in late April.

Cope said he paid for all landscaping at his home and produced a canceled personal check for $40,886 as proof. It was written on Feb. 5, 2014.

In four interviews in January, Cope said the March check for $18,987.50 was for emergency repairs to the SEANC irrigation and drainage system, which was leaving standing water around the building. Jones said she saw no such work being done at that time.

Rainy Days Irrigation did irrigation repairs at SEANC in July and August. For $685.25, the firm replaced sprinkler heads and rewired the system so it would run on a timer, records provided by Jones show.

[…] Broadway and Vegas

The N&O reviewed nine of Cope's SEANC credit card statements from the past four years, about one in 10 of the statements during that period.

Cope's contract gives him wide leeway to use his credit card for SEANC business: "The Executive Director is entitled to reasonable independent authority as to what expenditures are necessary to conduct SEANC business and the SEANC General Treasurer shall take into consideration much leeway of the Executive Director's judgment."

That authority has allowed Cope to buy tickets to Broadway touring shows, spend $1,700 at a nightclub in Las Vegas, and buy meals at expensive restaurants to network and make deals during national conventions of the Service Employees International Union. A recent wine tour in California landed SEANC a $400,000 grant, he said.

He acknowledged using SEANC credit cards for personal items: five purchases totaling $1,113.93 at Best Buy, $57 for an eyebrow wax at European Wax Center and $1,425.36 at Ticknors Men's Clothier, one of Raleigh's more expensive men's stores.

Cope has given inconsistent answers about how much he has reimbursed SEANC for the personal purchases, but he said he has repaid everything he owes.

Cope said he repaid at least $2,442 in 2013, yet SEANC's internal accounting system shows a single reimbursement of $74.99. He said he repaid $7,410 in 2014, but SEANC records show payments of $6,238.

He recently wrote a $262.50 check to pay for online video games purchased from 2011 until last year.

Cope dismissed the spending issues as the sour grapes of disgruntled members. He said Jones, Anthony and a third board member, Stanley Gales – all former executive committee members – were voted off the board at the last SEANC convention in September.

"They were resoundingly rejected," Cope said. "They have an ax to grind."

Jones had the opportunity and responsibility to challenge any spending she found improper but failed to raise the issues when she was treasurer, Cope said.

Jones said she and her allies were pushed off the board because she had started raising questions about Cope, who used his power to replace them with his supporters. Jones said she believed in SEANC's management when she joined the board and did not begin digging into Cope's finances until the last six weeks of her term.

Jones and Anthony said they know that coming forward with their allegations could hurt SEANC in the short run.

But Anthony said there's no choice because of Cope's actions: "He's killing the organization from within."
We encourage you to thoroughly read the contents of the linked article.  We admire Cope for his courage in breaking from the party line on Cowell and on Moral Monday.  But the allegations in this article — and his explanations — don't look or sound good at all.
It's been said that politics is a full-contact sport.  If you lob a few grenades at an enemy bunker, you better duck and cover.  For it's very likely that a bunker-buster is headed your way in return.