Charles Jeter: STILL unregistered.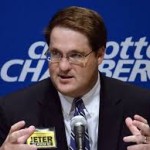 We reported earlier on former Rep. Charles Jeter's new job as a "government relations coordinator" for Charlotte-Mecklenburg Schools.  While in office, Jeter racked up the most liberal voting record in the House Republican caucus, and ran the caucus's campaign operation into the ground.  On top of that, he quit during the campaign — when it looked like he was definitely going to lose — and left his appointed successor high-and-dry.  And of course there's the whole lawsuit-and-not-paying-bills thing.  For all that, he got rewarded with a $91,000 government job.  For the uninitiated, "government relations" is fancy politician talk for LOBBYIST.
We moseyed over to the secretary of state's web site to see if ol' Charlie had registered yet.  THIS is what we got when we typed in his name:

So, he's not registered with the state as a lobbyist. But he's currently employed, at an annual salary of $91,000, as a lobbyist.  Let's take a look at state law from 2015: 
[…] No legislator or former legislator may register as a lobbyist while in office or before the later of the close of the session in which the legislator served or six months after leaving office.
[… G.S. 120C-304]
Okay, six months.  Charlie quit in mid-to-late July.  NEARLY FIVE MONTHS AGO.   (I believe the General Assembly adjourned that same month.)   I believe this special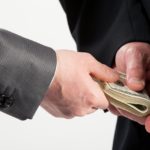 session convening today counts as part of the last session Jeter served in.  Sooooooooo — does that mean the six month prohibition starts all over for him? 
Jeter was hired on to the school system's legal team — he's not a lawyer, FYI — earlier this month.   Soooo — since he is not registered as a lobbyist, and cannot lobby his former colleagues, what has he been doing to earn that $91,000 worth of taxpayer funds? 
They may have been sending him to school board meetings and county commissioner and city council meetings.  I don't know if you have to register in order to lobby those folks.  But his real "value" would be on Jones Street. WHY hire him if he's legally barred from doing any work in the place he's most valuable?