CCA, NC Chamber & solar interests behind McCrory comeback tour?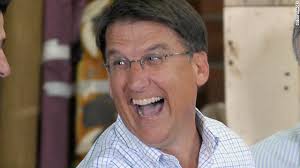 Pat McCrory sure has been visible lately.  We've been hearing behind the scenes for months that he was feeling folks out for a political comeback in 2020.  At recent political events in Raleigh, McCrory would not rule out a 2020 run for governor.
Now comes this video from a group called Citizens Science — an organization affiliated with NC Sound Economy, which is a coalition featuring heavy-hitters from the CCA, The North Carolina Chamber, and various subsidized solar energy proponents.  The video, posted on the Citizens Science Facebook page features McCrory pretty much parroting the CCA talking points in their battle with commercial fishermen.  It sure looks like a campaign video to me.
At least it's now out in the open.  But it DOES look like somebody didn't learn a damn thing from 2016.