Brubaker: SO LONG, SUCKERS!
"Let the door knob hit you where the Good Lord split you!"
— George Jefferson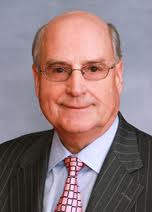 The mainstream media was full of glowing tributes to former House Speaker and 36 year legislature veteran Harold Brubaker (R) yesterday as word of his resignation from the General Assembly spread.  All I heard coming from the Asheboro Republican was: ME ME ME ME ME ME ME ME ME. 
Not a word about — oh — his constituents, the people of North Carolina, the party. (Those "little" things.)  It's all about how he's on top and how he's getting ready to cash in on his — ahem — "public service."
I guess things are getting a little lonely for ol' Harold.  The last of the cronies he and Richard Morgan teamed up with in that 2002 deal with the Devil (Jim Black) are leaving the legislature at the end of the year.
His tenure as speaker could not exactly be described as a conservative revolution.  Spending was still out of control. He and the leadership caved to Marc Basnight and Jim Hunt on several important issues.
Brubaker also raised the ire of some party activists on the Outer Banks earlier this year for his reported involvement in  Democrat-turned-Republican Arthur Williams's state House primary campaign.
It's strange that ol' Harold couldn't be bothered to retire BEFORE the May primary so his constituents could have a thoughtful process to pick his successor.  Now, the decision on replacing Brubaker is in the hands of the Randolph County GOP executive committee.  (It smells like a plot to slip a hand-picked Brubaker crony into the seat.)
Hopefully, the good folks in Randolph County can find a replacement more devoted to saving the state's economy than personal ambition.