BarryO: High gas prices STILL the fault of Republicans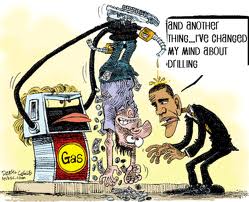 When Barry was running in 2008  against Grandpa John "You kids get off my lawn" McCain, he told us we could weather the high gas prices with tuneups, regular oil changes, and keeping your tires properly inflated.    Well — I've been doing all that since 2008.  Gas prices are now 90 percent higher than when Barry took office.  I — along with millions of other Americans — am STILL taking a beating at the pump.
Barry and his playmates told us all through 2007 and 2008 that it was Bush and Cheney's fault that gas prices were so high.  They claimed The White House SHOULD be doing more.  Now that Barry is at 1600 Penn, we're being told that there is not a whole lot the president can do to reduce gas prices.  Imagine that.
Now, trying to save his neck from the angry electorate, Barry is hitting the campaign trail doing what he knows best — blaming Republicans:
[…] "Only in politics do people root for bad news, do they greet bad news so enthusiastically," Obama said of Republicans. "You pay more; they're licking their chops."

Obama said dismissively that all the Republicans can talk about is more drilling — "a bumper sticker … a strategy to get politicians through an election" — when the nation's energy challenges demand much more. In a speech in Miami, he promoted the expansion of domestic oil and gas exploration but also the development of new forms of energy.
The editorial page of today's Wall Street Journal injected some common sense into the whole discussion of gas prices:
'The American people aren't stupid," thundered President Obama yesterday in Miami, ridiculing Republicans who are blaming him for rising gasoline prices. Let's hope he's right, because not even Forrest Gump could believe the logic of what Mr. Obama is trying to sell.

To wit, that a) gasoline prices are beyond his control, but b) to the extent oil and gas production is rising in America, his energy policies deserve all the credit, and c) higher prices are one more reason to raise taxes on oil and gas drillers while handing even more subsidies to his friends in green energy. Where to begin?

It's true enough that oil prices can't be commanded from the Oval Office, so in that sense Mr. Obama's disavowal of blame is a rare show of humility in the face of market forces. Would that he showed similar modesty in trying to command the tides of home prices, car sales ("cash for clunkers"), or the production of electric batteries.

The oil price surge has several likely sources. One is the turmoil in the Middle East, especially new fears of a supply shock from a conflict with Iran. But it's worth recalling that Mr. Obama also blamed the last oil-price surge, in spring 2011, on the Libyan uprising. Moammar Gadhafi is now gone and Libyan oil production is coming back on stream, yet oil prices dipped only briefly below $90 a barrel and have been rising since October. Something else must be going on.

Mr. Obama yesterday blamed rising demand from the likes of Brazil and China, and there is something to that as well. But this energy demand is also not new, and if anything Chinese and Brazilian economic growth has been slowing in recent months.

Another suspect—one Mr. Obama doesn't like to mention—is U.S. monetary policy. Oil is traded in dollars, and its price therefore rises when the value of the dollar falls, all else being equal. The Federal Reserve throughout Mr. Obama's term has pursued the easiest monetary policy in modern times, expressly to revive the housing market. It has done so with the private support and urging of the White House and through Mr. Obama's appointees who are now a majority on the Fed's Board of Governors.

Oil staged its last price surge along with other commodity prices when the Fed revved up its second burst of "quantitative easing" in 2010-2011. Prices stabilized when QE2 ended. But in recent months the Fed has again signaled its commitment to near-zero interest rates first through 2013, and recently through 2014. Commodity prices, including oil, have since begun another surge, and hedge funds have begun to bet on commodity plays again. John Paulson says he's betting on gold, the ultimate hedge against a falling dollar.

Fed officials and Mr. Obama want to take credit for easy money if stock-market and housing prices rise, but then deny any responsibility if commodity prices rise too, causing food and energy prices to soar for consumers. They can't have it both ways, as not-so-stupid Americans intuitively understand when they buy groceries or gas. This is the double-edged sword of an economic recovery "built to last" on easy money rather than on sound fiscal and regulatory policies.

As for domestic energy, Mr. Obama rightly points to the rising share of U.S. oil consumption now produced at home. But this trend began in the late Bush Administration, which opened up large new areas on and offshore for oil and gas drilling that are now coming on stream. Mr. Obama sneered at expanded drilling as a candidate in 2008 and for most of his term has done little to expand it.

In early 2010, he proposed to open some new areas to drilling but shut that down after the Gulf oil spill. According to the Greater New Orleans Gulf Permits Index for January 31, over the previous three months the feds issued an average of three deep-water drilling permits a month compared to the historical average of seven. Over the same three months, the feds approved an average of 4.7 shallow-water permits a month, compared to the historical average of 14.7.

Approval of an offshore drilling plan now takes 92 days, 31 more than the historical average. And so far in 2012, an average of 23% of all drilling plans have been approved, compared to the average of 73.4%.

Oh, and don't forget the Keystone XL pipeline, which would have increased the delivery of oil from Canada and North Dakota's Bakken Shale to Gulf Coast refineries, replacing oil from Venezuela.The reality is that most of the increase in U.S. oil and gas production has come despite the Obama Administration. It is flowing from the shale boom, which is the result of private technological advances and investment. Mr. Obama has seen the energy sun rise and is crowing like a rooster that he made it happen.

Mr. Obama yesterday also repeated his proposal that now is the time to raise taxes on oil and gas companies, as if doing so will make them more likely to drill. He must not believe the economic truism that when you tax something you get less of it, including fewer of the new jobs they've created.

We'd almost feel sorry for Mr. Obama's gas-price predicament if it weren't a case of rough justice. The President has deliberately sought to raise the price of energy throughout the economy via his cap-and-trade agenda. He is now getting his wish, albeit a little too overtly for political comfort. Mr. Obama has also spent three years blaming George W. Bush for every economic ill. If Mr. Obama now feels frustrated by economic events beyond his control, perhaps he should call Mr. Bush for consolation.