'Baghdad Bob', meet 'Greenville Tim'.
You may remember, during the First Gulf War, this peculiar spokesman for Saddam Hussein. He got nicknamed 'Baghdad Bob.'  He would appear on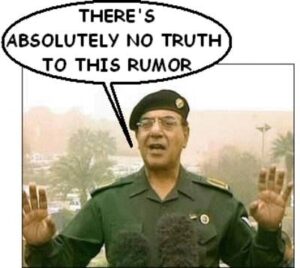 western media talking trash about the Americans, and saying everything was fine, all the while US troops were blowing the living hell out of his country's military.
Well, it appears the child grooming lobby now has a voice in Raleigh, thanks to Greenville's election of Dr. Tim Reeder to the North Carolina House.  Despite all the evidence in the world, Reeder has denied vociferously that East Carolina University has been marketing sex changes to kids as young as FOUR.  
Like 'Baghdad Bob,' and apparently like a lot of this state's drive-by media, Reeder thinks we're really stupid.  You can tell us — or not tell us — anything and we'll believe nothing hinky is happening or that everything is fine. *Nothing to see here.*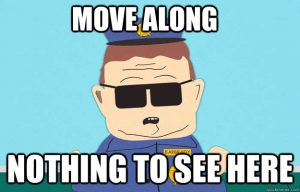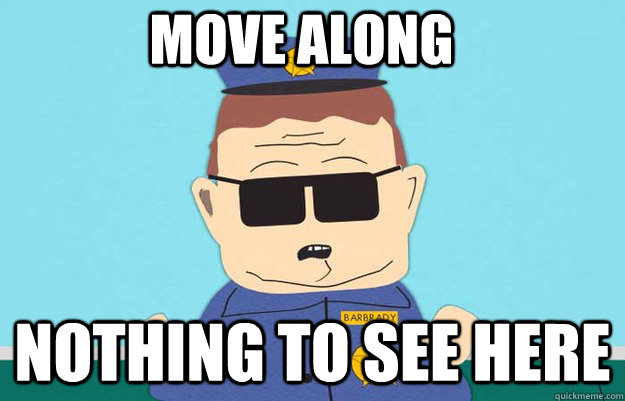 Raleigh Republicans and the drive-by media have been eerily silent on the growing phenomenon of state funded hospitals performing sex changes on young kids. One of Speaker Tim Moore's top cronies got a do-nothing job at the nerve center of the sex change operations in Chapel Hill.  Thanks to our work, and that of the Education First Alliance, the information is still getting out there:
In September, Education First published a series of stories about East Carolina University's Brody School of Medicine's pediatric LGBTQ+ Clinic for ages 4 and older.

East Carolina University's Brody School of Medicine (BSoM) has started to see patients for the newly developed ECU LGBTQ+ Health Clinic in an effort to promote access to healthcare for the LGBTQ community in eastern North Carolina.

"We also do not know of any other pediatricians in our area offering this care to those 18 years old and younger," Dendy said.

Dendy said the clinic is not yet widely publicized because there are still some logistics they need to sort out. She said that LGBTQ patients are currently being seen by Dendy and Matthai in the ECU Adult and Pediatric Health Care Clinic for the services they want their clinic to provide.

Gender affirmation care refers to treatments that include surgical and non-surgical treatment to transgender or non-binary people in their gender transition, a time in which a person changes their gender expression or sex characteristics. Dendy said she believes gender-affirmation care for people of all ages should be included in primary care.

We reported that ECU physician and Republican candidate for NC-House 9 Tim Reeder publicly denied the existence of the gender clinic while ECU clearly marketed the services on its website and in news reports.

Now that Reeder has won his election, House Speaker Tim Moore has appointed him to four committees that could boost the child-sex change industry beyond measure. Reeder now sits on these committees:

Families, Children, and Aging Policy

Health

Appropriations and Health and Human Services Appropriations Subcommittee

Higher Education

To recap: The man who went to great lengths to gaslight the public about ECU's practice of sterilizing children (with puberty blockers and cross-sex hormones) AND psychologically abusing children into believing they were born the wrong sex now sits on the committees charged with funding and regulating the industry.

There's more.

Reeder proudly boasted about his leadership role with the far-Left American Medical Association (AMA) during his campaign;

AMA lobbies hard for child mutilation practices:

"Gender-affirming care is medically necessary, evidence-based care that improves the physical and mental health of transgender and gender-diverse people."

Here's what AMA has to say about boys destroying Title IX and bills to save girls' sports:

Measures pending in some states would require a health care provider to "verify" a student's gender before allowing athletic participation.

Actions like these intensify the discrimination, harassment, and outright violence directed toward the estimated 1.4 million adults and 150,000 teenagers in our nation who identify as transgender or as gender expansive, which means they identify with neither traditional binary gender roles nor a single gender narrative or experience.

The AMA has gone as far as recommending that states stop including a "male" or "female" designation on birth certificates, saying the practice "harms" Transgenders. The organization obviously cares not about the rights of girls to have their own bathrooms, locker rooms, and sports teams.

But the coup de gras for the AMA came in October when it called for the DOJ to investigate journalists reporting on pediatric sex-change clinics to be investigated and jailed. The charge? Publishing "misinformation."

But don't worry, the team at Education Alliance refuses to yield to Rep. Reeder, the AMA, or anyone else who tries to stop us from exposing ECU, UNC, Duke, and other child butchery clinics that pop up in the state.

Reeder has the potential to weaponize his committee assignments in service to the AMA, ECU, and others seeking to groom our children and profit from "gender-affirming care." Expect to see most Republicans in the General Assembly defer to the "medical expert" in the delegation – Dr. Reeder – when they take up the next Girls in Sports Act or bills meant to stop child castration and mutilation.

And expect Reeder to lie to the public about the perpetuation of policies that harm children and girls as he serves the interest of the monied WOKE healthcare lobby and boosting ECU's profits.