(Awk-ward.) Spanish co. in North Meck's I-77 toll deal acccused of BRIBING POLITICIANS
The parent company of Cintra, the toll contractor who will run the I-77 HOT lane project, has made some news in Spain: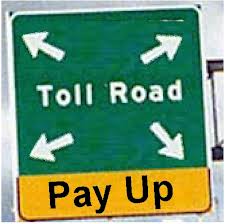 Spanish builder Ferrovial paid a Catalan political party commissions worth 4 percent of public work contracts it won under its government, Spanish media reports said on Wednesday, citing documents from Spain's tax office Hacienda.

The documents are part of a continuing court investigation into alleged corruption in Convergencia Democratica de Catalunya (CDC), a centre-left Catalan political party.

Spain's tax office alleges that CDC received 5.9 million euros ($7.71 million) from Ferrovial FER1.MC in the form of donations to a Barcelona concert hall, Palau de la Musica, which were then funnelled to party members, newspaper El Pais said.

In return, Ferrovial is alleged to have won big contracts like the construction of a Barcelona subway line and its City of Justice industrial park.[…] 
For those of you who haven't been keeping up, Cintra is a subsidiary of Ferrovial. Cintra will manage the project to widen I-77 in northern Mecklenburg County that will be financed by tolls.   The project, which has been backed enthusiastically by US Senator Thom Tillis, Governor Pat McCrory and most of the Mecklenburg GOP establishment, has been the subject of some intense grassroots protests.