WRAL-TV, GoFundMe tag-teaming McCrae Dowless?
That's what it might look like to the casual observer.  Check this out from  Twitter the other day: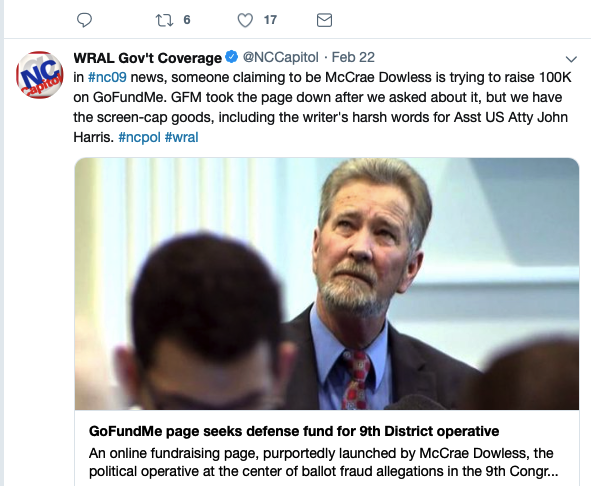 In most cases, this Twitter account is overseen by Travis Fain  — who thought he was too cool for school in giving Pat McCrory a civics test back when he worked for The Greensboro Driveby rag, and Mister Laura Leslie, (s)he of the-church-people-murdered-all-those-gays-in-that-Orlando-nightcliub  fame.
(I guess it's pretty easy for WRAL  to take the sanctimonious high-ground when they've been through all those recent struggles with lewd email and marital infidelity.)
Well, we've heard from sources we believe to be close to McCrae Dowless,who told us they followed up on the GoFundMe account shutdown.  This was GoFundMe's reply: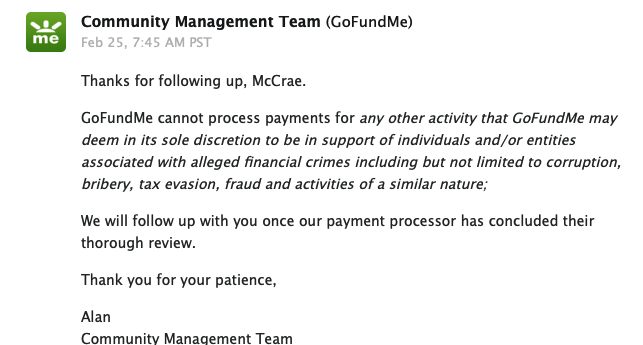 Hmmmm.  I don't recall Mr. Dowless being accused of ANY of that by someone with legal standing to accuse him of any of THAT.  Did an employee of WRAL lead GoFundMe to believe he has been accused of such?
If so, the station could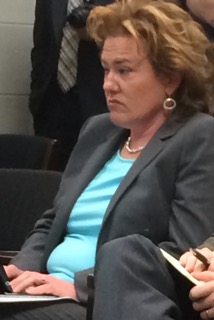 find itself on the business end of one hell of a slander / libel suit.  They're also playing with fire by hindering Mr. Dowless's ability to hire and finance an adequate legal defense.
We got the initial solicitation email as well. Mr Dowless appears to be trying to raise funds to pay for  lawyers for the criminal investigation the drivebys have been gleefully telling us is coming.   (This Wake DA couldn't find ANYTHING on Speaker Timmy and struggled to find anything on the now-former Wake County Register of Deeds.  You're darn tootin' she'll come up with something here.  It's too important to her daddy, Franklin  Freeman, and his capo di tutti, Jim Hunt.) 
Neither I nor this site are taking any position on the guilt or innocence of Mr. Dowless.  He deserves a fair court trial just like everyone else.  (Our officials have a bad habit of criminalizing political differences.  We need to make sure whether actual offenses actually in the statutes actually occurred before we start clearing a path for Mr. Dowless to the gallows.
McCrae Dowless hasn't been offered a fair chance to tell his side YET, and it appears WRAL-TV is doing its best to ensure he still won't get that shot.