WHO is 'Public Official A' ?
After reading through the indictment of Robin Hayes, Eric Lindberg, et. al., I came across this curious passage:
[…] Use of Another Public Official to Contact the COMMISSIONER

Between on or about February1,2018, and on or about February 4, 2018, GRAY and PALERMO exchanged text messages explaining that LINDBERG's political contributions to an elected public official ("Public Official A") were on hold in light of recent publicity about LINDBERG' s contributions. GRAY further stated, "I explained we should meet our agreement as [Public Official A] has no influence with [the COMMISSIONER]. Now I'm thinking a full explanation is warranted so [Public Official A] has the opportunity to consider conf. with [the COMMISSIONER] if he knows"

GRAY later called Public Official A and, on or about February 5, 2018, sent a text message to LINDBERG stating, "I have discussed our NCDOI matter with [Public Official A]. Please call before your trip to Greensboro today so we can discuss details. Excellent opportunity available for support here." On the same date, LINDBERG made a $150,000 contribution to a political committee supporting Public Official A.

On or about February 7, 2018, Public Official A called the COMMISSIONER to explain that LINDBERG was doing good things for North Carolina.

On or about February 12, 2018, PALERMO sent an email to LINDBERG and GRAY stating, "Just between  the 3 of us……………………………………. [PublicOfficial A] has already made two calls on our behalf and is trying to help us move the ball forward. I was also told that the $150K will be going to [PublicOfficial A]." […] 
(FYI — "The Commissioner" is Insurance Commissioner Mike Causey.  )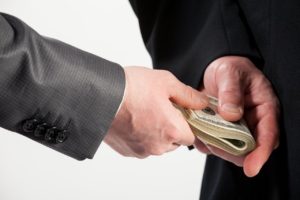 Okay.  Let's review.  'Public Official A' is an "elected public official" who was ready to take Lindberg' money, but was hesitant because of 'recent publicity' about Lindberg's contributions.    'Public Official A' later agreed to take $150K from Lindberg AND to make TWO phone calls on Lindberg's behalf.   It appears that $150K was delivered to 'Public Official A' in February 2018.
Hmmm.  Sounds like Hayes might soon be getting some more company on  the docket.