It seems like it was just yesterday the populace of Moore County was up in arms — Tea Party style — over shenanigans by the county board of education. Emboldened by little to no local media attention, the board ousted a popular superintendent to facilitate some good ol' boy (or gal) backroom deals.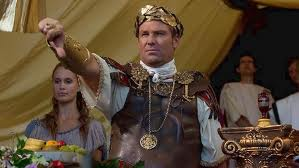 The resulting uproar led to FOUR of the Gang of Five resigning.  The county commissioners consulted with state Rep. Jamie Boles and state senator Jerry Tillman about giving Moore County voters the power to recall their school board members.
The school board, itself, was allowed to appoint interim members, thereby turning a Republican board majority into an effectively Democrat one (four Dems PLUS one RINO).  Now, it seems the Moore County commissioners have lost interest in giving the voters an additional check on politicians who misbehave in between elections: 
The Moore County commissioners voted unanimously Tuesday evening to back off seeking legislation to allow a recall election next March to remove one member of the school board.

County Attorney Misty Leland presented a proposed resolution that called for adding Moore County to a House-approved bill for Stanly County, which would allow a recall election for the school board if 15 percent of the registered signed a petition calling for one.

Last month, the Moore County commissioners expressed support for seeking legislation for a recall if it could be held next March along with the presidential primaries since it would add little or no cost. Holding a separate special election would cost more than $70,000, the board was told.[…] 
The way we read the Stanly County legislation — it's not a one time thing.  The legislation would allow a recall any time someone filed an affidavit and acquired the right amount of signatures on a petitions. MORE: 
Commissioner Catherine Graham said the Board of Education now has four new members and is back to full membership. She said four of the five members of the previous board who voted last month to fire Superintendent Bob Grimesey resigned under tremendous public pressure — and Grimesey was reinstated four days later.

She said it would not be worth all of the time and effort for the Board of Elections to verify every signature on a petition to recall the one remaining member, Laura Lang, of the five that fired Grimesey. She added that Lang's term ends next December.

"We're talking about a period of March to December," Graham said, referring to the likelihood that Lang would be replaced in November election.

Graham said holding a recall election "doesn't present a good image" for the county and its school system, which helps attract new businesses and more families here. She said Moore County has a great school system.

"To see recall election signs scattered all over the county, that would not support that," she said.[…] 
I can see why a sitting elected official might be frightened over the sight of recall signs along the roads.  MORE: 
Commissioner Randy Saunders agreed. He said it would create "overbearing load" on the elections staff.

"We've obviously seen major changes in the makeup of our school board," he said.

Saunders said this would be "singling out" the school board on "single vote." He said any recall election provision should also include the county commissioners.

"If you do something that violates that trust, you should be subject to it," he said. "We should all be subject to it or none of us should be."[…] 
Major changes?  You had a total change in the partisan makeup of the board — orchestrated by politicians and school system insiders without any input from the voters.  We agree with Saunders about expanding the legislation purview to include ALL of our elected officials. Especially those who do things like — oh, get reelected as state attorney general and then ignore their job for four years while running for governor. 
But sticking with this effort would have been a good start.  We're having an election in March.  What's one more thing to vote on?