Thom's Tholl Theam retains BIG DOG lawyers in fight against lil' ol' anti-toll road group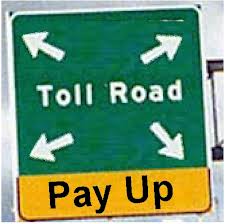 Widen I-77, a citizen's group based in North Mecklenburg County, has been making a lot of noise in fighting the state's deal to hand over the development and management of proposed toll lanes on I-77.  These grassroots activists are apparently getting on the nerves of the powers-that-be:
Cintra, you may have heard, is a huge multinational corporation with over $70 billion in assets under their control. They are a goliath in the private tolling industry.

Well, earlier this week Goliath introduced himself to Widen I-77. Actually, Goliath's twin brothers did. They're both lawyers.

Parker Poe, a downtown Charlotte law firm with 200+ attorneys in five cities around the Carolinas, sent us a certified letter letting us know they represent I-77 Mobility Partners, LLC. (You may recall I-77 Mobility is the shell company Cintra set up to run the I-77 toll lanes.) The letter cited our press release about retaining counsel and requested to be notified "immediately" if we file an injunction.

Parker Poe has an Infrastructure Development practice with ties to local government. Rick Short just blogged about them over at  ashortchronicle. Lately Parker Poe has been involved in getting the Red Line back on track.

Goliath's other twin is an LA-based law firm, Gibson Dunn and Crutcher. They have over a thousand attorneys with offices eighteen major cities all over the world. We're not sure what they're involvement is, but we're guessing when a company like Cintra has $70 billion in assets they can afford to cc a few high-priced attorneys.

Are we intimidated? Nah. We expected to run up against some Goliaths with deep pockets.

They may have huge resources… but we have their attention.

That being said, we could use a few more stones for our slingshot….
Writing someone a letter and cc'ing a law firm is a clear intimidation effort.  (Thom Tillis did it to the guy whose barn he allegedly shot up.)  But having a big-ass law firm send a letter that cc's an EVEN BIGGER law firm? Wow.  That's taking things to even grander D-B levels. 
You'd be hard pressed to find ANY of Cintra's toll projects that have a happy ending. A quick Google search will produce a number of stories about revenue shortfalls and bankruptcy filings on other US-based Cintra projects.  What happens here if Cintra and its partners run into money trouble?  Well, Widen I-77 has addressed that.  You might notice that the state has signed the toll lane deal with an LLC — a limited liability corporation. In a financial dispute, or any other litigation, ONLY the assets of the LLC are at risk.  And NOT those of the entities or people managing the LLC.  Cintra and its partners could close up shop on the LLC and walk away. They could go on to other deals, while the taxpayers of North Carolina are left to clean up the mess.
This isn't a one-time deal.  The state has all kinds of plans to replicate these kind of arrangements across North Carolina.   Pay attention.  You and your neighbors could be next.