The Morgan-Black clique rides again in Raleigh?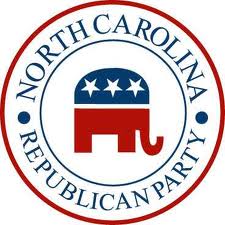 The dictation pool in the McClatchy newsroom has regurgitated a press release talking about a new "House Republican group":
A group formed by the N.C. House Republican caucus has begun airing TV ads encouraging Tar Heel citizens to take an on-line survey reflecting their priorities for the state.

The ad features House Speaker Thom Tillis talking about the importance of small business and the need to set policies that help small businesses prosper.

"Today, more than any time before in our history, it is important for all governing bodies to have the ability to communicate directly with the people," said Danny McComas, who is chairing the group, called North House Legislative Partners. McComas, a Wilmington Republican who resigned from the legislature last year, is now chairman of the N.C. State Ports Authority Board.

He said the group plans to focus its message outside Raleigh.

To help it do so it has also launched a website, nchouselegislativepartners.com. The site will offer public opinion polls, petitions, news updates and accept donations.

The group is a non profit structured as a 501(c) 4. Unlike individual campaign accounts it can raise money from special interest groups while the legislature is in session. It is not required to disclose its donors. Also, there are no limits on the amounts that donors can give, unlike normal political contributions.

Links to the ad can be found at www.ncpriorities.com.
OK, where do we begin?  First, aren't you supposed to figure this priorities stuff out at campaign time?  Also, McClatchy claims this group is set up by the House Republican Caucus.  Actually, much of the group's polling and other goodness is being provided by Carolina Strategy Group, a consulting firm run by Paul Shumaker.   Folks may remember Shumaker as the brains behind the Republican Main Street Committee — a group that ran ads in 2004  supporting the unholy Richard Morgan-Jim Black alliance in the state House.   You may also remember Shumaker's defense of attacks on GOP legislators  critical of Richard Morgan's team-up with Black.
WRAL did a little digging and found that the registered agent for NC House Legislative Partners is Raleigh lawyer Roger Knight, who worked as "co-speaker" Richard Morgan's "general counsel."
The release reprinted by McClatchy mentioned that former legislator, and current NC Ports Authority chairman, Danny McComas chairs the group. ( McComas was also on the board of Morgan and Shumaker's Republican Main Street Committee in 2004. )   How can a full-time state employee, whose agency is overseen by the legislature, be chairing this effort run by a leading GOP political consultant reportedly on behalf of some GOP leaders in the House?   I guess if Tricia Cotham can be a school principal AND a legislator at the same time — and no one has a problem with it — this one is OK too. 
If you need a refresher on the NC Republican Main Street Committee, check out the great work from the guys at mooregop.org or click on these links from that site:
Richard Morgan's election law violations, and a sworn complaint to the SBOE
Back to the current Legislative Partners group.  They've released an ad featuring current House speaker Thom Tillis — who everyone from here to Timbuktu knows  is looking at a Senate run.  Even though this group is a 501(c)4 non-profit, the ad looks A LOT like a pro-Tillis campaign ad.
Let's flash back to 2006 when Tillis ran in a GOP primary against GOP legislator John Rhodes. Rhodes was the leading critic in Raleigh of House Speaker Jim Black and co-conspirator Richard Morgan.  Morgan made it clear to the media that he would recruit candidates to run against his foes — including Rhodes.   John Hood, president of the John Locke Foundation, took note of Tillis's campaign tactics against Rhodes:
Speaking of an unfriendly contest, the primary between incumbent Republican Rep. John Rhodes and former Cornelius Town Commissioner Thom Tillis must be filed in the bitter category. The primary is the election in this strongly Republican Mecklenburg seat. Tillis is criticizing Rhodes for a combative style, particularly with respect to fellow Mecklenburg lawmaker Jim Black, that according to Tillis has harmed the district's prospects for securing transportation and other funding from the state. Rhodes defends himself by arguing that he should vote his principles, even if they place him in a minority of one. Area Republicans will make the call.
   You can stick a fork in both Black and Morgan.  As far as politics goes, they're DONE.  Perhaps the clique has found a new horse …