"Tell me, is the man who punched your crotch in this courtroom?"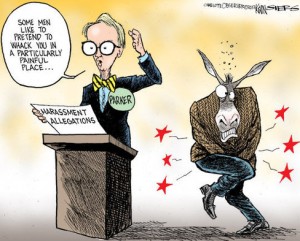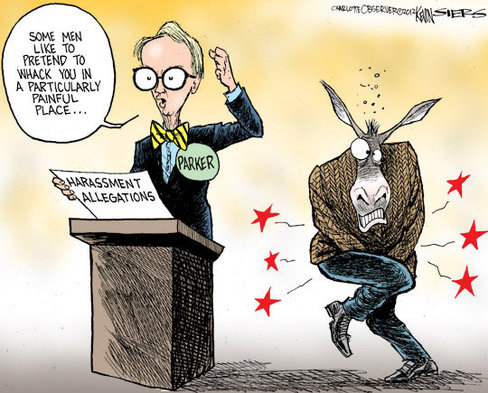 A former NC Democrat Party worker at the center of an alleged gay sex scandal at North Carolina Democrat HQ  is suing  his former employer:
The staffer whose sexual harassment allegations earlier this year roiled the North Carolina Democratic Party has sued the party for defaming him.

Attorneys for Adriadn Ortega filed a defamation suit in Wake County Superior Court on Thursday charging that the state Democratic Party and state party Chairman David Parker engaged in "false, despicable, and defamatory statements about him."

The suit is the latest twist in a sexual harassment case that has drawn national attention and caused national and state party leaders to pressure Parker to resign.

After he was fired in November, Ortega wrote a letter to the Democratic Party and filed a complaint with the Equal Employment Opportunity Commission, claiming he was fired in retaliation for his sexual harassment complaint against the party's then-executive director, Jay Parmley.

Ortega asked for a severance equal to his annual pay and health care coverage. He later signed a confidential out-of-court settlement with the party, an agreement authorized by Parker.

There the matter rested until April when word of the settlement leaked out in the news media, creating a firestorm of stories and Republican charges of a coverup. Parmley resigned but denied the charges of harassment. There also were repeated calls for Parker's resignation from those who questioned his handling of the case.

In an effort to quell the controversy, Parker held a news conference in which he defended Parmley and sought to put some of his behavior in a friendly, nonsexual light. It was at that April 19 news conference that Ortega alleges that Parker and the Democratic Party violated the confidentiality agreement and also falsely accused Ortega for the purpose of keeping Parker in power.

"The statements made during press conference disparage Ortega as they improperly identify and portray him as an extortionist, liar, overly sensitive, as being dishonest, and generally being a person you would not want to hire," the suit says.

The suit asks for punitive damages in excess of $10,000, court expenses and attorney fees, a public apology, a trial by jury and a declaratory judgment that the party comply with the terms of the settlement. The case is being handled by Kieran Shanahan, a prominent Republican attorney, and his partner John Branch.
State Republican HQ should not be too giddy over this news.  There is a chance that
THEY
could be facing their own legal issues related to some alleged incidents at the NCGOP state convention in Greensboro.
 (Stay tuned … )