Snowflakes cry. Cops spy. Drivebys lie. (Film at 11.)
UNC campus police are on the lookout for trouble, and the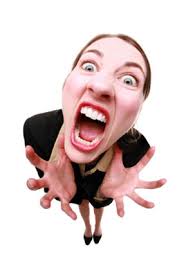 Chapel Hill freak show is pissed: 
In a new twist in the controversy about the Confederate monument at UNC-Chapel Hill, Silent Sam protesters are expressing their outrage to university leaders about what they describe as a sting operation by campus police.

They said an undercover officer infiltrated their ranks. And when they found out about it, they confronted him. […] 
Let's see.  A gaggle of people is threatening to do damage to university property and the police are checking it out.  And there is THIS recent precedent, set by the same demographic, in Durham.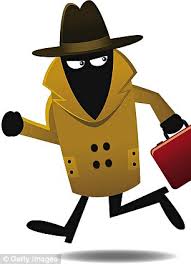 […] This all began at the height of last August's protests about Silent Sam. Demonstrators staged a 24-hour-a-day sit-in at the statue that lasted 9 days. A man named "Victor," claiming to be sympathetic to the cause of removing the monument, attended the protests every day.

"He told me he was an auto mechanic in Durham, that his brother owned an auto body shop, that he was a war veteran with PTSD," said UNC graduate student Maya Little, one of the protest organizers. "We were about bringing people in. We're about being inclusive. So my thing was like great, awesome, thank you for being here to support us and help us."

Heather Redding, a community supporter of the protest said she saw "Victor" regularly.

"He was very friendly. We chatted of course about Silent Sam, but I also shared personal things with him," Redding said.

That kinship and gratitude quickly turned to feelings of betrayal Thursday amid the chaos caused by the explosion on UNC'S upper quad. […] 
Of course we can't forget the explosion on campus.  * What could possibly possess campus cops to step up their focus on the local political nutcases?*
MORE: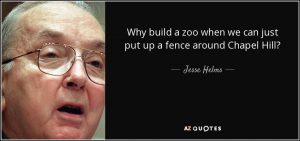 […] Little and a group of other Silent Sam protesters saw "Victor" again – but now he was dressed in the uniform of a UNC campus police officer.

"So I called to him and I said, 'hey Victor, hey Victor', and he didn't acknowledge me," Little said.

They said he eventually introduced himself as Officer Hector Borges. They pressed him on why he went undercover.

Portions of the confrontation are caught on the students' cell phone cameras.

The officer can be heard saying, "I'm in uniform. We're not going to record, OK, because I'm going to tell you how I felt about the whole thing."

They asked him why did he lie to them.

"Why, because I'm in uniform that's why," the officer responded.

Friday morning, the students took their outrage to the UNC System Board of Governors.

"A police officer that we pay our student fees and tuition to was hired to spy on us, to spy on students," Little told the board.

Redding, along with 2 other protesters shared similar sentiments with the board.

"I think a lot of people, when they found this out, felt very betrayed especially because this is such an emotional investment," Redding said.

In response to ABC11's request for comment about the alleged undercover operation, UNC Police Media Relations Director Randy Young said, "While we don't discuss specific details of operation, UNC Police has assigned officers to the area around Silent Sam, both in uniform and in plain clothes, ever since the Charlottesville incident with the sole purpose of maintaining student and public safety."