Robinson Family Matters: "Mom, is that YOU?"
We've previously reported on some, um, "concerns" about  Greensboro-based Balanced Nutrition, the government contracting business being run by Lt. Gov. Mark Robinson's wife Yolanda Hill.
Our latest report found that Ms. Hill-Robinson affirmed via signed IRS documents that there were NO family relations among Balanced Nutrition's board and key employees — a group which includes Yolanda Hill Robinson.   Our research found that Yolanda Hill and Mark Robinson's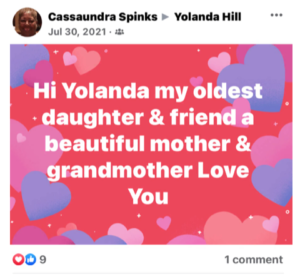 son and son-in-law were listed on IRS forms in multiple years as board members / key employees of Balanced Nutrition.  In 2018 and 2019, Tuwanda Brunson was IDed on Balanced Nutrition's IRS filings as "board chairman."
In 2019, 2020, and 2021, Cassaundra Spinks was IDed on the firm's IRS filings as a "key employee."
Judging from the graphic to the right, Spinks appears to be Yolanda Hill's mother.  Our research indicates that Tuwanda Brunson is the daughter of Cassaundra Spinks and shares a residence with Spinks.  Therefore, it can be inferred that Brunson is Yolanda Hill's sister. 
How do you seriously and credibly claim over five years that your sister and mother do not count as "family relations"?
So, between 2017 and 2021,  at least five people IDed on Balanced Nutrition's IRS filings as board members or key employees were related by birth or marriage:  Yolanda Hill, her mother, her sister, her son, and her son-in-law.   THAT fact right there makes the written affirmations to the IRS, between 2017 and 2021, of there being NO family relations on the board or among key employees FALSE. 
Here's another interesting tidbit.  On each year's IRS form 990, the filer must attest to whether a conflict-of-interest policy is (1) in place, (2) regularly reviewed, and (3) adhered to and enforced. Ms. Hill Robinson said YES to all of those in her IRS paperwork between 2017 and 2021.
That's clearly a problem.  Five of the six people IDed as board members or key employees are related by blood or marriage.  That SCREAMS conflict of interest.