Report: NCGOP chairman Hayes on FBI surveillance tape
My mama always told me that if you're attending gatherings the FBI is interested in recording, you probably need to find some new friends. 
We told you earlier about Mike Causey wearing a wire for the FBI.  It looks like he stumbled across Robin Hayes one day while wearing that recording device.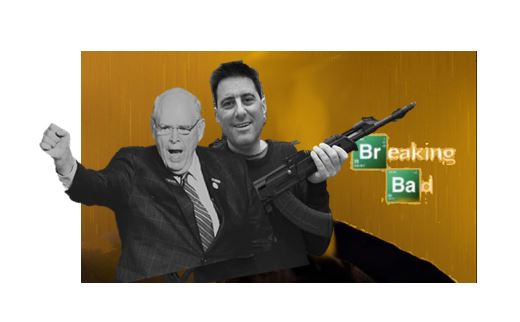 Here's the latest on the Eli Global mess, insurance commissioner Mike Causey, and the folks at NCGOP HQ:
Insurance Commissioner Mike Causey made a secret recording of a meeting he attended along with a wealthy donor and the chairman of the North Carolina Republican Party, according to two sources with knowledge the meeting or the contents of the recording.

The meeting took place between Causey, NCGOP Chairman Robin Hayes, a Durham businessman named Greg Lindberg and one of his associates.

Lindberg is the subject of a federal investigation being conducted by the Federal Bureau of Investigation and the US Attorney's Office for the Western District of North Carolina.

The investigation is probing potential financial crimes related to Lindberg's expansive business empire as well as public corruption allegations stemming from Lindberg's reported efforts to buy the cooperation of politicians in North Carolina.

Lindberg has donated millions of dollars to the NCGOP—as well as written six-figure checks to the North Carolina Democratic Party—in recent years.

North Carolina law prohibits personal contributions to campaigns to $5,200 but political parties can give their candidates an unlimited about of money.

NCGOP Executive Director Dallas Woodhouse first confirmed to WBTV in early October that the party gave a portion of the money Lindberg had contributed to the NCGOP to Causey at the donor's request. But Woodhouse insisted the contribution from the party to Causey was legal because Lindberg had already given the money at the time he requested the party make a contribution to Causey.

The party's contribution to Causey was a result of a meeting where Lindberg and his associate asked Hayes if the party would be willing to cut a roughly quarter-million-dollar check from the party to Causey, according to a person who has heard the recording; one of the two people who provided details to WBTV on the condition they not be identified to discuss sensitive evidence in an ongoing federal investigation.

The conversation was captured on a recording device used by Causey, the second person confirmed to WBTV.

Audio of that meeting has been played before the grand jury investigating this case, according to one of the people who spoke with WBTV on the condition their identity not be revealed.

[…]