Randolph County book ban brouhaha sheds light on leftist indoctrination in public education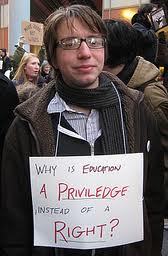 McClatchy and their comrades are up in arms about the Randolph County school board daring to exert some sort of local control over public education.  Heck. Even Russian TV and The Comic Book Legal Defense Fund are joining ranks with the crayon corps in the Raleigh and Charlotte newsrooms. * If the comic book guys are with you, how can you lose? *
The Randolph County school board voted to remove The Invisible Man by Ralph Ellison from its high school summer reading list — in response to a complaint from parent Kimiyutta Parson.  (I had to read this tripe in junior high.  I remember being so disappointed when I found out this was not the book version of this *great* cinematic masterpiece. )
For those of you who may not be familiar with the book, here is a thumbnail sketch:
Ellison says in his introduction to the 30th Anniversary Edition[3] that he started writing what would eventually become Invisible Man in a barn in Waitsfield, Vermont in the summer of 1945 while on sick leave from the Merchant Marine. The letters he wrote to fellow novelist Richard Wright as he started working on the novel provide evidence for its political context: the disillusion with the Communist Party that he and Wright shared. In a letter to Wright August 18, 1945, Ellison poured out his anger toward party leaders for betraying African Americans and Marxist class politics during the war years. "If they want to play ball with the bourgeoisie they needn't think they can get away with it…. Maybe we can't smash the atom, but we can, with a few well chosen, well written words, smash all that crummy filth to hell." In the wake of this disillusion, Ellison began writing Invisible Man, a novel that was, in part, his response to the party's betrayal.[4]
So, we get a book by Ellison that beats up on the commies — for being too soft — and on white people, in general — for being too mean.  Another choice on the reading list was "Passing" by Nella Larsen — another book devoted to invoking white guilt about how America has treated black folks.  And, of course, "Black Like Me" by John Howard Griffin.  *Wonder what THAT ONE is about.*
Of course, the leftist boo-birds have taken to the Internet to decry the school board's move as neanderthal and — wait for it — RACIST.   hmm.  The Randolph County parent leading the charge against the Ellison book is named Kimiyutta Parson. ( I hate to stereotype BUT I'm willing to bet that this Parson person is NOT a White Anglo-Saxon Protestant.)
Defenders of the Ellison book and the reading list claim they were all strongly recommended by Dr. June and her team at NCDPI.  (*Can you say Common Core?*)
Noticeably absent from the list are works like:  Democracy In America, The Wealth of Nations, Common Sense, Animal Farm, 1984, Free To Choose, and Atlas Shrugged.  I'm not a big fan of censorship.  Neither am I a big fan of shoving ONE and ONLY ONE viewpoint down students' throats.  How about more of that diversity stuff that lefties claim to love?
As I've mentioned before, I teach college courses at two area campuses.  I am regularly exposed to high school graduates who are unfamiliar with the works of Milton Friedman or Ayn Rand, and who seriously believe there is a "Right to Health Care,"  a "Right to an Education" and a "Right to Choose" spelled out in The U.S. Constitution. 
When I teach entrepreneurship, we discuss Atlas Shrugged — to highlight some of the challenges big government places on people trying to succeed on the basis of their hard work.  I have the students watch the movie (now movies) prior to the discussion.  Many of them — mostly ethnic minorities, by the way — have been inspired by the movie to go out and get Rand's books and learn more about her and her philosophy.
Why does the education establishment spend so much time and energy to try and make students feel so bad about their country?  Why not go back to intensive studies of our founding documents, as well as the things that worked (and didn't work) in American history?  Instead of bombarding them with white guilt, feminist rage, and Marxist class warfare, why not talk about the good that capitalism has done for our country and a lot of the world?  Why not talk about why people all over the world often risk life and limb to come to this country?
I'm for exposing students to all kinds of viewpoints.  Throw in a fair look at capitalism along with some American pride to go along with all of that leftism.