Raleigh lefties encourage coup at Treasurer's office
Isn't it interesting how the peace, love, and "freedom" crowd is always the first to advocate for the unilateral snatching of rights and making of changes — without a single vote being cast?  (Or the whole story being told?)

Well,  Rob Schofield — once half of Sesame Street's 'Bert and Ernie' — is ready to take one more crack at it:
[…] First and foremost is the matter of whether Folwell is actually exercising his constitutional and statutory duties or is even capable of doing so at this critical time for investment markets. Folwell is the sole overseer of a huge, multi-billion dollar public pension fund and has responsibility for a state health plan that serves more than 700,000 members. Raleigh's News & Observer reported on Monday that Folwell has not responded to a text inquiry and a spokesperson said he was "under the care of doctors." We do not know exactly what that means.[…]
You don't understand "under the care of doctors" ?   Wow.  Just — wow.  And who would place a priority on talking to The money-bleeding, dying N&O?   Who still reads them?  Aren't there just a handful of people left in the newsroom?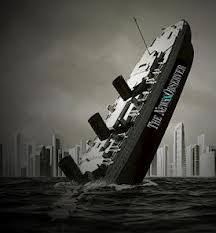 MORE:
As the same N&O story also reported:

"[On March 26] Folwell said he could not answer a call from [the paper] because of the severity of his symptoms. 'I am really focused on saving my energy by not talking which (agitates) my cough and lungs,' Folwell said in a text message directing further questions to [Treasury Department spokesperson Frank] Lester.[…]
Aaaaaaaand HOW MANY Raleigh politicians, on  a daily basis, deflect questions from annoying so-called journalists to their press spokesperson?
MORE:
[…] On Sunday [March 29], Folwell did not answer a text message seeking an update on his condition.

Lester said Monday that Folwell remains sick and under the care of doctors. When asked if Folwell was hospitalized he said he had no further information he could provide. Lester said he is relying on Folwell's family to tell him what they're comfortable with the public knowing….

Lester said there is no succession plan while Folwell is out sick but that Chief of Staff Chris Farr has been leading the office."

If Folwell is truly incapacitated, this raises important matters of state law. As a prominent North Carolina attorney recently pointed out in an email to Policy Watch, Article III, Section 7, Subsection 5 of the state constitution says the following:

(5) Acting officers.  During the physical or mental incapacity of any one of these officers [including the state Treasurer] to perform the duties of his office, as determined pursuant to this Section, the duties of his office shall be performed by an acting officer who shall be appointed by the Governor.

In addition, General Statue 147(a)(3) (which deals with the Governor's right to fill vacancies in other offices) states in relevant part:

The Governor may determine (after such inquiry as the Governor deems appropriate) that any of the officers referred to in this paragraph is physically or mentally incapable of performing the duties of the office. The Governor may also determine that such incapacity has terminated.

In other words, while it's heartening to know that someone is minding the store during his illness, Folwell doesn't appear to be empowered under state law to simply designate such a person. That power resides with the governor.

 

What's more, with the plague of COVID-19 likely to be felt in our state for some time, it's entirely plausible that another constitutional officer could fall ill and it would appear to be a worrisome precedent that is being set if the governor has not been involved in selecting an acting officer as state law appears to require.[…]
So,  Dale Folwell goes into the hospital for five days and Scowlin' Rob is ready to have our goofy guv replace him?   I notice Rob has nade to say about Alma Adams, who has
seriously poor arithmetic skills
, but sits in Congress — which has a whole lot more authority and power than the North Carolina state treasurer.  (Aren't  you incapacitated if you can't count to THREE?)
Here's what Folwell's office had to say upon his release from the hospital:
State Treasurer Dale R. Folwell, CPA was released from Wake Forest Baptist Medical Center after five days of treatment due to symptoms related to the COVID-19 virus. A little more than a week ago, he was diagnosed with the virus. It has primarily impacted his respiratory system, producing a severe cough. As he was convalescing at home, the cough became more acute, resulting in his physician, Dr. John Bernoit, M.D., recommending that he admit himself to the hospital. He did so on March 29 until he continued to get better and was, subsequently, discharged today.

At no time during his stay in the hospital was Treasurer Folwell on a ventilator or otherwise incapacitated. He has been in contact with his family and necessary senior staff members at the Department of State Treasurer (DST) throughout his illness. He has continued to lead DST, with the assistance of his deputies, and has been as engaged as necessary given the severity of his illness and his need to rest and recuperate.

Treasurer Folwell and his family expressed their deepest gratitude for the doctors and staff at Wake Forest Baptist Medical Center including Dr. William Mariencheck, M.D.; Dr. Chowdhury Sakera Ferdous, M.D.; and Dr. Christopher A. Ohl, M.D. He also wanted all to know the incredible job that the Registered Nurses, Certified Nurse Assistants and support staff do every day for all the patients under their care. Their professionalism and concern for his health was an essential factor in his speedy recovery and eventual discharge.

Treasurer Folwell also praised the employees at DST who have continued operations under the most difficult of circumstances, citing Berkshire Hathaway Chairman and CEO Warren Buffet, who once said that the reputation of a business and its employees is more important than any one individual. These, like many other state employees, are the true public servants. He noted that, in response to the Governor's stay-at-home order, nearly 400 DST employees are working productively from home.

Just last week, more than 300,000 retirees received their much-neededpension payments. The Retirement Systems Division continues to process retirements for those who teach, protect and serve. The State Health Plan is providing medical coverage and information to plan members to help them during this crisis. The Investment Management Division continues to minimize investment losses despite market volatility. The State and Local Government Finance Division, the State Bank and Unclaimed Properties Division are all operating and providing services to the state's citizens.

The Treasurer will now continue his recovery from home following the protocols as outlined by the discharge procedure as well as those required by local and state health officials. He would like to thank his wife, family and friends for all their support during this difficult time. Additionally, the family and he would like to express their most sincere appreciation for the outpouring of concern and well wishes for the Treasurer's health. However, they respectfully ask all those who are concerned to please give him time to continue to convalesce.

Their hearts go out to those who have lost loved ones and to all who have been impacted by this pandemic. But through adversity often comes added strength. Treasurer Folwell hopes that we will all come out of this crisis with renewed vigor and a desire to be even better than we were before.

The N.C. Department of State Treasurer (DST) serves the people of North Carolina through a variety of functions related to the financial health of the state and its citizens. Folwell serves as the state's banker and chief investment officer and is responsible for approximately $100 billion in assets.

The department administers the employee retirement systems for more than 900,000 public workers, along with their 401(k), 457 and 403(b) plans. DST also oversees the State Health Plan, which provides health care coverage to more than 727,000 teachers, state employees, retirees, current and former lawmakers, state university and community college personnel, and their dependents. Fiscal assistance and expertise are provided by the department to local governmental units by aiding them in the sale of local government debt obligations and in maintaining sound budgeting, accounting, and reporting procedures. The department also administers the NC Cash unclaimed property database.