'Queer Bingo', DEI and The 4-H
Every day, it seems, marxists are making it harder and harder for us to have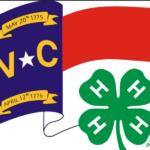 nice stuff.  You can come along with something wholesome for the kids and the rest of the family, and the lefties will hit you with complaints and lawsuits galore aimed at ruining the good thing you've got.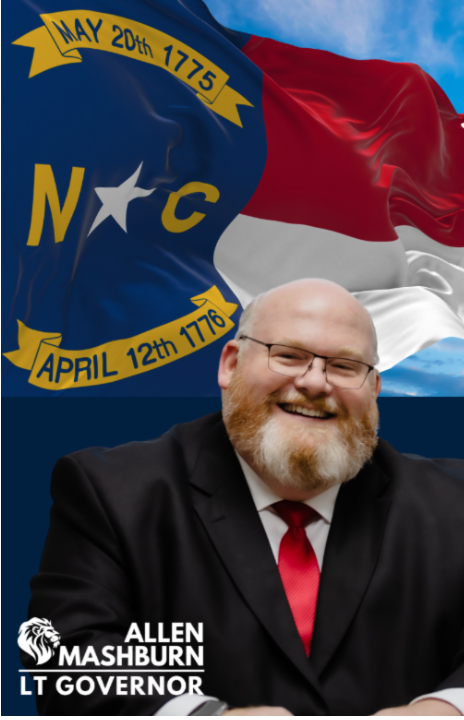 The 4-H has been around for decades, and has provided training and all kinds of other good works for the benefit of young people.  Unfortunately, 4-H has caught the attention of the woke marxists.
Allen Mashburn, a Montgomery County-based pastor and announced candidate for NC lieutenant governor, recently made his concerns known about 4-H's turn for the worse to a number of state legislators as well as state agriculture commissioner Steve Troxler:
[…] It has come to my immediate attention that the recent 4H Youth Development Training for Extension Agents in Central NC promoted Diversity, Equity and Inclusion (DEI) training.  This was done in several manners. I am attaching two examples to this email.  

Dr. Nathan Street, my cohost on Carolina Conservatives podcast, will be addressing this and interviewing any and all of those Extension Agents that will come forward.  I wanted to give you a chance to respond as these programs fall under your purview at the NC Department of Agriculture.

 I live and pastor in Montgomery County where we have a great number of our homeschool students that are involved in 4H programs BECAUSE the programs are/were considered safe.

I personally request you to examine this and get back to us as soon as possible.

 

The concepts of DEI, ESG, SEL and all forms of CRT are  poorly disguised Marxism and must be eradicated immediately.  

Very soon, my colleagues and I will be covering this on our podcast that is now downloaded in every county in NC, as well as 34 states.  Further, we will be interviewing people under anonymity, if need be, to confront this.  We very much would like to have a statement from you concerning your Office's position on what is being administered in these training meetings.

I look forward to your statement.

For the record, you have been a strong leader in the role of Commissioner of Agriculture.  You have put our farmers first and stood by them over the years, for that we thank you.  We trust that you will exhibit the same leadership in this matter as well.

I look forward to hearing from you.  Until then, I pray God will give you wisdom and discernment to do the job that you are called to do.
Here are some of the materials that raised concerns with Mr. Mashburn.  Here is
what looks like a BINGO card.
 Instead of displaying numbers and letters in the squares, the cards have LGBTQ+ indoctrination.   Check out some of the propaganda included in the squares on the cards: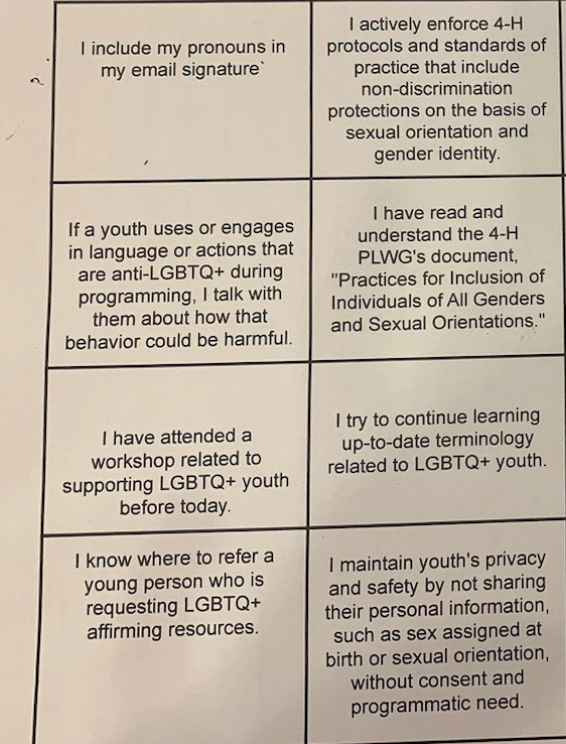 "Affirming resources"?  That's lefty code for "sex changes."  Ask your "friends" at East Carolina and UNC about that.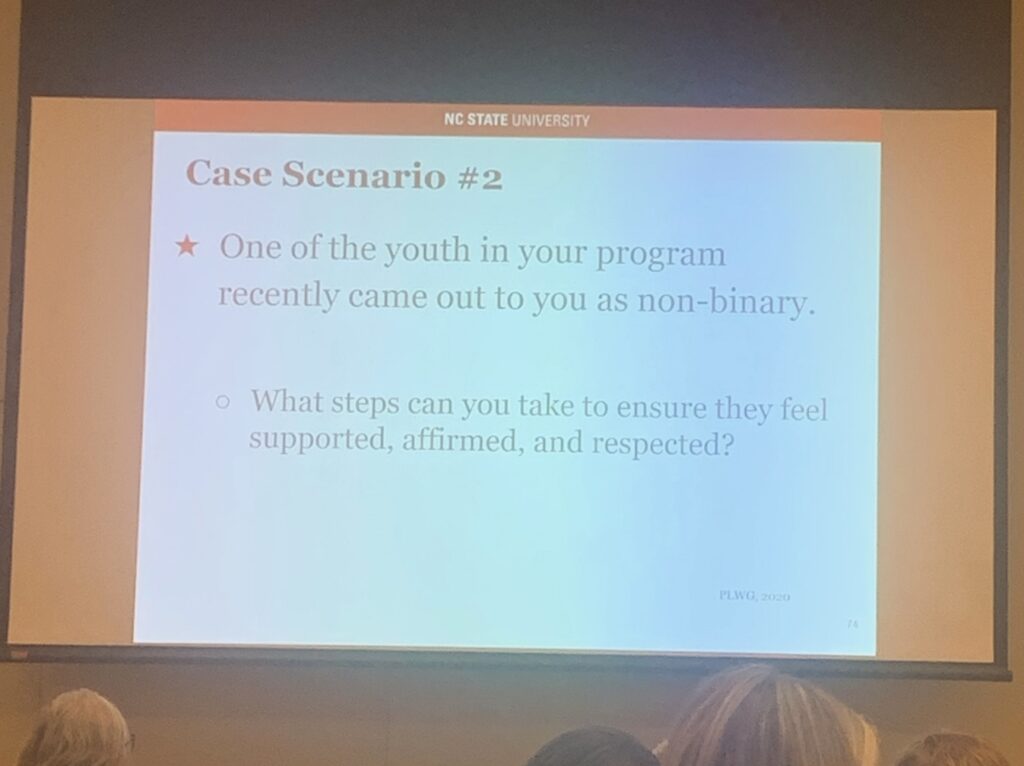 It is astounding how much effort — in the grand scheme of things – is put into marketing this stuff to kids.  It's also astounding how much capital – time, money, energy – is being put into propaganda and political action aimed at "protecting," or benefiting less than one percent of the population.