Pinehurst councilwoman laments NCGA's "love of property rights"
In an era of Neo-Marxist rioting and vandalism,  it's more than disturbing to hear a leader so close to home bad-mouth the concept of property rights.   But THAT appears to be what council member Judy Davis did at the last village council meeting.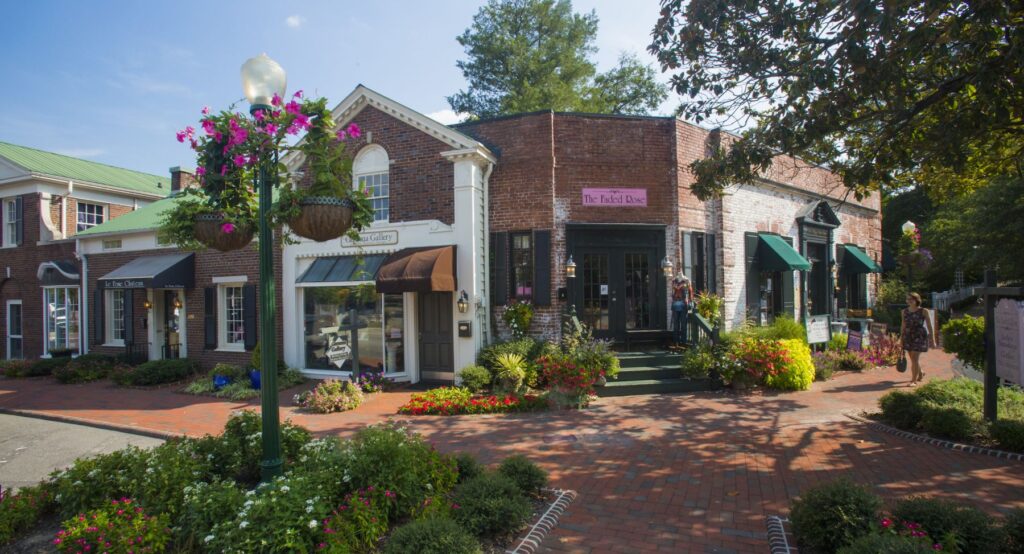 For the benefit of those who have yet to visit Pinehurst,  the village's inner core — aka "Olde Towne Pinehurst" aka "the historic district"  —  includes million dollar homes, the properties of The Pinehurst Resort, and a small commercial district that looks like it could be the set for a Hallmark movie or a BBC series.  It's not exactly the kind of place you'd expect the Caddyshack pool scene to break out, but it apparently did:
Pinehurst leaders vowed Tuesday to look at changes to its ordinances and regulations in the wake of a large party that occurred over the weekend at a rental home, resulting in numerous complaints from neighbors about loud music, the use of illegal drugs and property damage.

The council added an item to its agenda regarding public disturbances and nuisances in response to a large party held at home on Magnolia Road, which is used as a short-term rental. Council members made clear they want to prevent this kind of thing from happening again.

Several neighboring property owners were allowed to address the council.

Village Manager Jeff Sanborn said village officials are still piecing together "exactly what happened" Saturday. He said the renters did not disclose the magnitude of the party to the property management firm that handles rentals for the owner.

He said "the story was that it was a combination birthday/graduation party," but what actually occurred "bore no resemblance" to that.

Sanborn said the village learned from reviewing various social media posts that it amounted to a pool party with a cover charge that also included a live disc jockey traced back to a strip club in Fayetteville, with more than 75 people attending.

"This was certainly not the first rodeo," Sanborn said of the organizers, saying they were "very savvy."

It was supposed to take place from 2 to 8 p.m., but ended up going later into the night, Sanborn said. The first call to police about the noise and other problems started just at 4 p.m., he told council.

Sanborn said when police arrived, "they did the best they could" to get the music turned down to "an acceptable level." He said given the size of the party, officers did not want to do anything that would have "incited violence."

He said the music was turned down, but the noise and other problems "worsened" later in the evening. He said the party finally shut down just after 10 p.m., but a number of people went back to their cars in the Carolina Hotel parking lot and continued partying that resulted is some property damage and littering.

Sanborn said it was "clear there were significant violations" of the village noise ordinance, but it does not define a maximum decibel level, making enforcement difficult. It is based on what a "reasonable" person considers too loud, he added.

He said this also amounted to a commercial use of a residential property that violates the zoning ordinance. He said there was "criminal trespassing" on other property in the neighborhood and that illegal drugs were likely being used.

"This could have happened anywhere in Pinehurst," Sanborn said.

He said the fact that this home is used as a short-term rental, it is more difficult for the village to regulate it.

"We are working on ways to prevent this from happening again," he said.

Sanborn said the village is looking into requiring that language be included in rental contracts to "punish" renters who violate village ordinances and regulations by forfeiting deposits.

He said the noise ordinance needs to be revised to allow police to issue civil citations, which cannot be done now.

"That needs to be corrected," he said.

Sanborn said village officials are also exploring ways to better monitor social media "to catch these before they become a problem."

He said the police department is also examining a "standard operating procedure" to handle situations such as this with large numbers of people that could involve the use of its K-9 unit when it is suspected that illegal drugs are being used.

"It would have helped break up that party much sooner," he said.

Mayor John Strickland said before hearing from residents that Sanborn's comments "demonstrate that staff and council are taking this seriously."

Four residents who live near the home as well as the owner of the rental company that manages the property addressed the council.

Victoria Adkins said it is "obvious" that council members and staff are sincere about dealing with the problem, but that she felt "totally let down" by the village that night to curb the problems or shut down the party.

She said they kept calling police to complain but saw little police presence.

"It was very upsetting," she said.

Adkins also said the size of the gathering violated the state's COVID19 rules that prohibit outdoor gatherings of more than 25 without social distancing.

Bill Sugg told the council that this particular home has been a "nuisance" in the past, though many of the renters do not cause problems. He said they tried to be "patient" in waiting to call the police.

"Our patience has run out," Sugg said.

Lisa Case said the noise "continued unabated." She said she understood that police officers did not want to do anything to "escalate" the situation.

She said it was a "widely inappropriate event with loud music outdoors with shouting and cursing being heard. She said the property management firm and the renter need to be held accountable.

Her husband, Bill, said that would make them "much more careful about who they let in."

"Something has to be done," he said.

Marcus Larose, owner of Sandhills Rental, which manages the property, first offered an apology for "the disaster this was," and that his firm is looking into changes that will prevent something like this from happening again such as instituting a maximum number of people allowed on the property. He said this the first time in the 10 years since he started the company that something like this has happened.

"I do not condone this type of behavior," he said. "My firm had no idea this was going to happen. … My firm has learned from this."

Larose also apologized to Lisa Case, who accused him of being rude to her when she called him the night of the party. He said he was "caught off guard." He added that he will pay for any property damage caused by the renters.

He also thanked the police department for how it handled the situation.

"We are living in controversial times," he said. "I think the police handled it appropriately."[…]
If the Pinehurst Police had abandoned their speed traps to crack down on this fiasco,  this high-end neighborhood would be hosting Black Lives Matter and antifa for months on end.
MORE:
[…] At the outset of the discussion, a visibly emotional Strickland said he wanted to address what he called "disturbing problems" from the Saturday event. He said village officials did not have any advanced knowledge such an event was to be held at the home.

He said the party would be "inappropriate in any neighborhood" in the village, but the fact that this is in the Village Center and it impacted surrounding homes and businesses "made it even worse and more disturbing."

He said it is "likely" some village ordinances were violated in addition to Gov. Roy Cooper's current COVID-19 executive ordinances that prohibits outdoor mass gatherings of more than 25 people.

He said this situation is in "striking contrast" to the village's character and its history.

Council member Jane Hogeman said all of the members share Strickland's concerns and that they will "do everything possible" to prevent this kind of thing from happening again.

Council member Lydia Boesch said some of the things she has seen and heard about that happened at this party "are so disturbing."

"Something like this should never happen again," she said. "I don't want to harm people who behave reasonably. It is just alarming to see it happen."

Council member Judy Davis said the N.C. General Assembly's "love of property rights" has made it difficult for local governments to regulate short-term rentals, which has been an issue in the village for many years.

"We need to figure out how to navigate that," she said.[….]
Holy cow.  This woman needs to be sitting on an HOA board annoying her neighbors, not serving in a governmental capacity.