Only $3 to grab a bite with BarryO!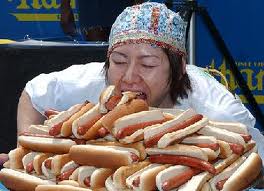 Politico —  The N&O's partner in port side sycophancy on the national level  — is reporting on a Real Bargain being offered up by BarryO's main squeeze:
The emails from the Barack Obama reelect about winning a dinner with the president as a randomized reward for contributing to the campaign have gotten a bit more intense as time goes on, and the latest one, from the first lady, emphasizes that the winner of such a prize shouldn't freak out about it.

"Just relax," she advises.

The email is below.

From: Michelle Obama [mailto:info@barackobama.com] 
Sent: Wednesday, September 28, 2011 2:34 PM
To:
Subject: These dinners

XXXX —

Not everyone knows how to prepare for a dinner like this. As someone who's eaten countless meals with my husband, I want to tell you the one thing to do if you're selected to join him…

Just relax. Barack wants this dinner to be fun, and he really loves getting to know supporters like you.

I hope you'll take him up on it before Friday's deadline.

Will you donate $3 or more today and be entered to have dinner with Barack?

These dinners mean a lot to Barack. They're a chance for him to talk with a few of the people who are driving the campaign — and a chance for him to say thank you.

So come prepared to tell your story, and say whatever's on your mind.

Don't miss the opportunity to be there. Donate $3 today, before the September 30th deadline:

https://donate.barackobama.com/Dinner

Thanks,

Michelle
Hmmmm.  Say whatever's on my mind.  (Where is my wallet ???  Oh yeah, thanks to Barry's recession and tax policies, it's EMPTY.)
Too bad.  But then again, I bet the "lucky winner" will get forced — just like Barry — by Michelle and her mother to eat a bunch of plants and weeds.   I bet this "prize" includes getting nagged throughout dinner by Michelle, her mama and special guest Hillary.
As appealing and exciting as all that sounds,  I'll pass.  NO Thanks.